September 2019 Recipe of the Month
Gazpacho de Sevilla
All over Spain, you will find different versions of gazpacho. Some use bread as a thickener, others have chunks of vegetables, many are pureed smooth. It's available in boxes and cans, at airport take-out joints and the most elegant restaurants. The two things that appeared to be consistent in Spain, first, they sip it from a cup, they do not eat it with spoon! And second, it isn't lipstick red from tomatoes, but rather a coral color as a result of the emulsion from red tomatoes and rich Extra Virgin Olive Oil. I have several versions of recipes for gazpacho – some are more time consuming — requiring precise tiny dices of lots of veggies, but my favorites toss everything in a blender and simply puree them. This one is my current favorite. It adds the extra step after pureeing of straining out any skins and seeds that didn't puree nicely. The smooth consistency and flavor balance are just right here. Try it — you'll like it!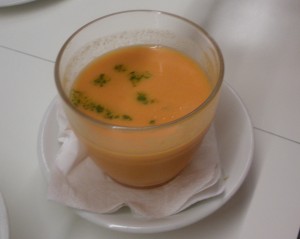 Servings: 6 Prep Time: 15 minutes Total Time: 15 minutes
Ingredients
2 tablespoons Red Wine Vinegar
1/3 cup Extra Virgin Olive Oil – plus a little bit more to drizzle on top
1 1/2 cup Tomato Juice, more or less, depending on consistency
2 pounds Tomato, mix of heirloom and slicing, cored, rough chopped, and cherry tomatoes
1 Italian Frying Pepper, or bell pepper, cored, seeded, rough chopped
1/2 cup Sweet Onion, rough chopped
1 small-medium Cucumber, peeled, rough chopped
1 small clove Garlic
Salt and Pepper, to taste
Instructions
Combine oil and vinegar in a large serving bowl. Pour a splash of tomato juice in a blender, and then throw in handfuls of the veggies in batches small enough for your blender to handle. Blend until pureed. As each small batch is done, pour it into a fine meshed strainer or a food mill over the bowl with the oil and vinegar. Push the puree through the strainer to remove any unwanted tomato skin, cucumber seed etc. When you have finished pureeing all the veggies, add remaining tomato juice and season to taste with salt and pepper.  My husband and son also like to add a dash of hot sauce. Whisk to combine it well with the oil and vinegar. Refrigerate until cold and serve in a cup with a tiny drizzle of excellent quality Extra Virgin Olive Oil on top .