September 2018 Recipe of the Month
Black Beans with Vegetables and Yellow Rice
When I lived on the Upper West Side of Manhattan, one of my favorite dives was "La Caridad" on Broadway at 78th, which described itself as a "Chino-Latino" restaurant. But this was no fusion. The staff was all ethnically Chinese men who had immigrated to the US from Cuba. Half the menu was Chinese, half Cuban. In its heyday, it was always bustling, and it was inexpensive with huge portions. I always ordered from the Cuban side of the menu — often the Bisteak Palomilla with Yellow Rice and Black Beans. This is my approximation of a solid Yellow Rice with Black Beans. They used Goya Sazon, which is an umami bomb full of MSG, but I make annato oil instead to get good flavor and the great orange-y "yellow" color. FYI — if you're going to NY, this isn't an endorsement of the current La Caridad. I hear it went downhill…..If you would rather cook with brown rice, the color won't be quite as vibrant, and you will need to cook it 45 minutes, not 15. This is a classic "kitchen sink" recipe — you can toss in all manner of veggies: poblanos, fennel, celery/celeriac, corn etc etc. Use up whatever you have on hand!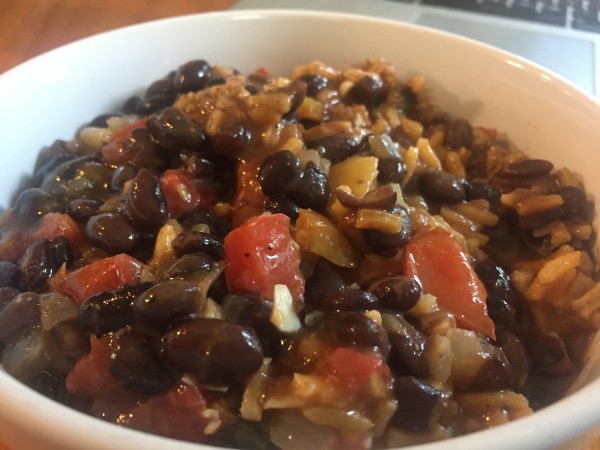 Servings: 6 Prep Time: 15 minutes Cook Time: 20 minutes Total Time:
35 minutes
Ingredients
1 teaspoon Annato Seed , OR
1 teaspoon Achiote Paste
3 tablespoons Olive Oil , divided use
2 cups Onion , minced, divided use
1 cup White Rice
8 cloves Garlic , minced, divided use
2 cups Beef or Chicken or Vegetable Stock , I used beef, because it was what was on hand
2 tablespoons Vegetable Oil
1 Bell Pepper , cored, seeded, diced
1 Hungarian Hot Wax Pepper , cored, seeded, diced
1 Summer Squash , diced
28 ounce can Black Bean , do not drain
Salt and Pepper , to taste
2 Slicing Tomato , cored and diced
2 Plum Tomato , cored and diced
1/2 teaspoon Smoked Paprika
1/2 teaspoon Coriander
1/2 teaspoon Ancho Chili Powder
Instructions
If using annato seed, place in 1 tablespoon oil in a small saucepan and heat until the oil shimmers. Remove from heat and allow the seeds to steep for about 10 minutes. Using a slotted spoon, discard the seeds and continue with step 2. If using annato paste, heat oil in a small saucepan and add the paste, stirring to fry it and incorporate it into the oil.
Add half the onion with a good pinch of salt into the annato oil and sauté until the liquid comes out of the veggies and then evaporates. Add half the garlic and sauté for 30 seconds. Add rice to pan, and stir to coat all the grains in the oil.
Add the stock and bring to a boil. Cover and reduce heat to low. Cook until rice is tender, about 15 minutes.
While the rice is cooking, heat remaining oil in a large skillet over high heat. Add remaining onion, the peppers, and the summer squash and a good pinch of salt and pepper. Sauté until the liquid releases from the vegetables and evaporates. Then pour in the black beans and their juices along with the diced tomatoes and spices. Stir to combine, then simmer about 5-7 minutes, until tomatoes are softened. Taste and adjust seasonings. Serve beans hot over rice.