September 2017 Recipe of the Month
September 2017 Recipe of the Month
Raw Kale and Celeriac Salad with Smoked Trout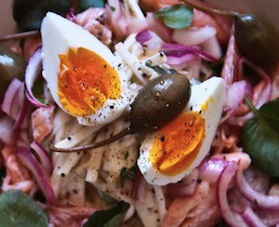 A richly satisfying salad meal, this one can be made up to a day ahead of time.
1 Celeriac
3 tablespoons Lemon Juice
3 tablespoons Mayonnaise
3 tablespoons Sour Cream
2 tablespoon Creole Mustard , or spicy brown mustard
1/4 cup Apple Cider Vinegar
2 tablespoons Honey
4 tablespoons Chive , minced
1 bunch Kale , center stalks removed, leaves very finely chopped
8 ounces Smoked Trout , skinned, broken into bite sized pieces
4 Hard Boiled Egg , peeled, quartered
12 Caperberry
Salt and Pepper , to taste
Instructions
Shred celeriac with the shredding disk in a food processor, or with a box grater. Toss with lemon juice to keep celeriac from discoloring. Set aside.
In a small bowl, mix together mayo, sour cream, spicy mustard, vinegar, honey and chives. Toss the kale and celeriac with the dressing. Taste and adjust seasonings. Divide this mixture among 4 plates, top each salad with a quarter of the trout, eggs, and caper berries. Give an extra crack of pepper to the top, and serve. If not serving immediately, wrap tightly with plastic wrap and keep in refrigerator.