October 2019 Recipe of the Month
Beauty Heart Radish and Chive Tea Sandwiches with Sesame and Ginger
I love a good tea sandwich, whether or not we are having a tea. I think they make great party food, and a wonderful snack or lunch. This Asian-ified take on the classic radish tea sandwich is uber-beautiful with the colorful beauty heart radish. Depending on how large your radish is, you may have to manipulate your cut to make it fit on the baguette. Most average sized beauty hearts are the perfect size for the average baguette slice.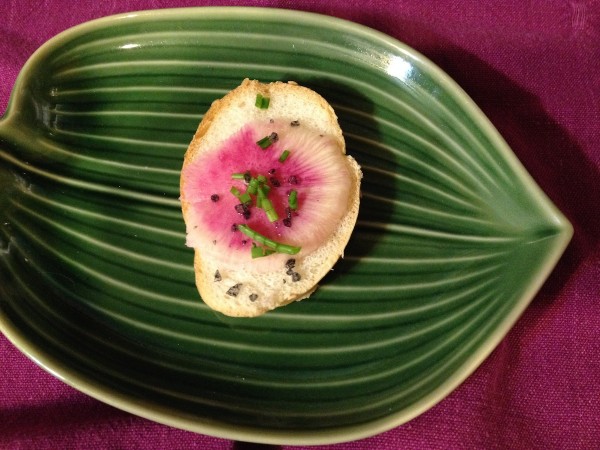 Servings: 16 Prep Time: 30 minutes Total Time: 30 minutes
Ingredients
1 Beauty Heart Radish , peeled (or 2 smaller)
8 tablespoons Butter , room temperature
6 tablespoons Chive , minced, divided use
2 tablespoon Black Sesame Seed , divided
2 teaspoon Ginger , minced
1/2 teaspoon Toasted Sesame Oil
32 1/4 inch slices Baguette , about 1 baguette
Fleur de Sel
Instructions
Peel your beauty heart radish. If you have a mandolin, set it to a very thin slice, and cut 32 paper thin slices of the radish, or using your sharpest chef's knife, cut 32 slices.
In a small bowl, combine butter, 1/2 the chives, 1/2 the sesame seeds and the ginger with the oil. Spread this mixture over the slices of baguette. Lay a slice of beauty heart on top (again, if the size isn't right, be creative!) and sprinkle with remaining chives and sesame seeds. Just prior to serving, sprinkle a little touch of fleur de sel on top.
Adapted from Bon Apetit April 2008. Schar makes a good Gluten Free Baguette.