November 2017 Recipe of the Month
November 2017 Recipe of the Month
Turkey and Cranberry Chutney Wrap and Roll Platter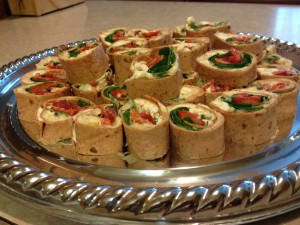 One of my all-time favorite party dishes is the wrap and roll platter. There are endless variations of wrap sandwiches which you can make, then roll up and slice pinwheel style to make tasty finger food platters. One of my favorites is turkey with cranberry chutney. Make the chutney a day ahead of time and keep in fridge overnight to speed process
Servings: 12+
Ingredients
1 cup Onion
1 teaspoon Olive Oil
1 cup Sugar
1/2 cup Water
12 ounces Cranberry
2 Tart Apple , peeled, cored, diced
1/2 cup Raisin
6 tablespoon Brown Sugar
1/4 cup Cider Vinegar
1 teaspoon Cinnamon
1/4 teaspoon Salt
1/8 teaspoon Ground Allspice
1/8 teaspoon Ground Clove
Cream Cheese
40 slices Roasted Turkey Breast
8 large Flour Tortilla
3 ounces Spinach
1/2 cup Red Onion
Start your chutney well in advance of making the wraps so that it can be chilled. Sauté onion in oil in a saucepan until tender. Combine all ingredients from sugar through ground clove in the saucepan. Bring to a boil, then simmer for 20-25 minutes. Cool to room temperature, then store in refrigerator until ready to make sandwiches.
Clear a large enough work space to spread out each of the 8 tortillas. Using a small offset spatula, spread a little bit of cream cheese on edge of tortilla farthest from you. This will act as "glue" to hold the wraps closed.
Divide the chutney across the 8 tortillas and spread over the whole tortilla leaving a 1/2 inch border before the cream cheese. Lay 5 slices of turkey in a line in the middle of the tortilla. Top with a handful of spinach leaves and red onion. Tightly roll the tortilla and seal the edge with the cream cheese.
Slice off the two ends to make an even edge, then slice the tortilla into 6-8 even bite sized pieces. Arrange decoratively on a serving platter.