May 2020 Recipe of the Month
Lentil Stew with Potatoes and Greens
This hearty vegetarian stew is one of my quick and easy weeknight favorites. It is good with pretty much any vegetables you have on hand: carrots, parsnips, any kind of potato, any kind of green….This makes a good sized batch, and like many stews, the flavors improve when reheated, but it may need a little more liquid added in upon reheating. My kids especially like this if I garnish it with feta cheese. The addition of fresh herbs and lemon bring this stew to life — don't skip them!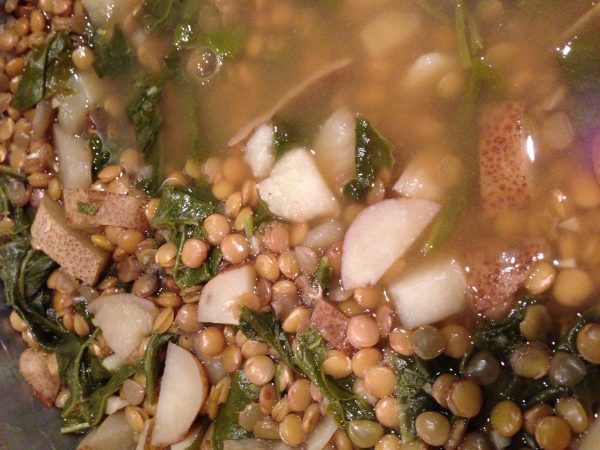 Servings: 8  Prep Time: 10 minutes  Cook Time: 30 minutes  Total Time: 40 minutes
10 **** votes
Ingredients
10 cups Chicken or Vegetable Stock
3 cups Lentil, rinsed and picked over
1/2 teaspoon Garlic Powder, if you have garlic, use2-3 minced cloves
1.5 pounds Potato, diced
1 Lemon, zested and juiced
1 large bunch Spinach, washed, spun dry OR
1 large bunch Arugula, washed, spun dry OR
1 bunch Radish Greens, washed, spun dry, or pretty much any greens on hand
pinch Cayenne, to taste
1/2 cup Mint, chopped (use whatever fresh herbs you have access to — parsley, cilantro, basil, chives etc)
Salt and Pepper, to taste
optional Feta Cheese, for garnish
Instructions
Pour stock and lentils into a soup pot, add garlic powder, and bring to a boil skimming any foam that rises. Reduce heat, cover and simmer for 10 minutes. Stir in potatoes and simmer uncovered until potatoes are just fork tender and lentils are cooked through, about 15 minutes longer.
Once lentils are tender, stir in greens, lemon zest and juice, cayenne and simmer until greens wilt, about 2-3 minutes longer. Stir in mint, salt and pepper to taste and serve, passing a little feta for garnish if you desire it.