May 2019 Recipe of the Month
Spinach Salad with Pan-Seared Asparagus and Oven-Poached Egg
Salad for dinner is one of my favorite spring go-to meals. To make it more substantial and protein packed, we add some special touches. Fresh eggs and asparagus were made for one another. They come together easily with this method for oven poaching the eggs. Feel free to mix your spinach with other greens you may have on hand, such as sprouts, choy, cabbage, arugula, lettuce etc. If I have some radishes or salad turnips, I'll add some thinly sliced ones to the mix.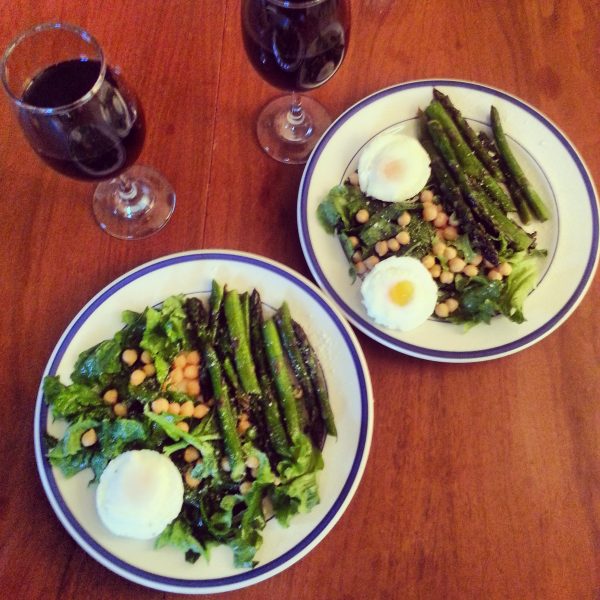 Servings: 4 Prep Time: 12 minutes Cook Time: 20 minutes Total Time: 32 minutes
Ingredients
4 tablespoons Water
4 Egg, (feel free to double the eggs for extra protein!)
3 small Potato, scrubbed, diced
1 bunch Asparagus, any tough ends snapped off, about 3/4-1 pound
1/4 cup Extra Virgin Olive Oil, plus more oil for grill pan
1-2 tablespoons Lemon Juice
Salt and Pepper, to taste
2 tablespoons Parmesan Cheese
4-6 cups Spinach, washed and dried, roughly chopped
14 ounce can Chickpea, rinsed
1 cup Crouton, optional, gluten free if desired
Instructions
Preheat oven to 350˚. Spray 4 wells of a muffin tin generously with oil. Pour 1 tablespoon of water into each oiled well. Crack an egg into each well. Bake until egg is just set, about 12 minutes. While the eggs cook, continue with the rest of the recipe. When eggs are done, scoop out with a spoon and lay eggs to dry on a clean tea towel, then sprinkle with salt and pepper.
Bring a small pot with a little water to a boil. Place your potatoes into a steamer basket that will fit in the pan. Steam your potatoes, covered, over the boiling water until the potatoes are just piercable with a fork, about 15 minutes. Toss potatoes with a little salt and pepper and set aside to cool a little.
Heat a grill pan or large skillet over medium high heat. Toss the asparagus spears with a drizzle of olive oil and a sprinkle of sea salt. Toss asparagus into the pan and sear quickly, turning them so they are evenly cooked. Thick spears will take 5-7 minutes; pencil-thin spears will take 1-3 minutes. Remove from heat.
Whisk together lemon juice and olive oil. Season with salt and pepper to taste. Toss spinach with half of the dressing, just lightly, and divide among 4 plates. Divide steamed potatoes, asparagus, chickpeas and eggs among the 4 plates as well. Distribute croutons among plates. Drizzle with a little more dressing, and a sprinkle of cheese. Serve.