May 2018 Recipe of the Month
Roasted Trout with Asparagus and Radish
This delicious balsamic honey glazed meal highlights the flavor of the radishes — so sweet and mellow this time of year, and it is a whole new way to love asparagus. If you can't find trout fillets at the market, substitute salmon or other thin filleted fish, or try the vegetarian version of this recipe with tofu, available on localthyme.net. The 40 minute prep time includes 30 minutes of unattended marinating time. The recipe scales up or down well.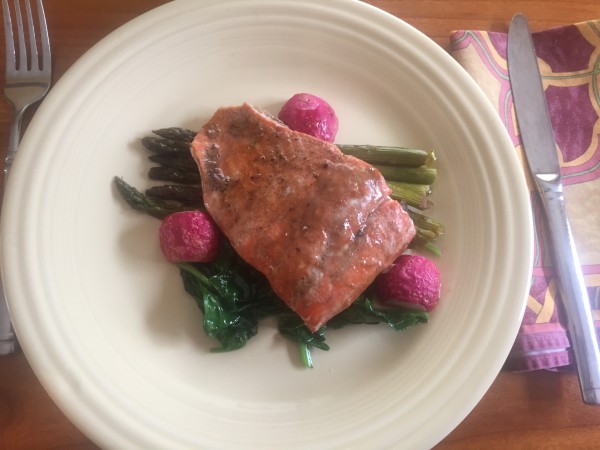 Servings: 4 Prep Time: 40 minutes Cook Time: 20 minutes Total Time: 60 minutes
Ingredients
3 tablespoons Honey
2 tablespoons Balsamic Vinegar
2 tablespoons Dijon Mustard
1 1/2 teaspoon Salt
1 1/2 pounds Trout, fillet
2 tablespoons Unsalted Butter, melted
6 Radish
1 bunch Asparagus, washed, any tough ends trimmed
2 teaspoons Olive or Sunflower Oil
1 bunch Radish Greens, well washed
Instructions
Preheat oven to 425ºF. In a small bowl, whisk together honey, vinegar, mustard and salt until well blended. Spread about 3 tablespoons of honey mixture onto the flesh side of trout fillets and allow them to marinate at room temperature for about 30 minutes.
Stir melted butter into remaining honey mixture. Place radishes and asparagus in a large rimmed roasting pan lined with aluminum foil or parchment paper; toss vegetables with honey mixture. Roast for 5 minutes.
Push the veggies aside to make a little room for the fish. Add trout, skin side down, to the roasting pan. Spoon any sauce from the pan over the trout. Roast for about 8-10 minutes, until fish flakes easily when tested with a fork.
Meanwhile, heat the oil in a skillet over high heat. Wilt radish greens in hot oil, about 2 minutes. Season to taste with salt and pepper. Divide greens among 4 plates and serve fish and veggies over the greens.