May 2016 Recipe of the Month
Rhubarb Spritzer
Come spring, when I finally see rhubarb, I am eager to find ways to make it last a bit longer. One of my favorite ways to preserve rhubarb for the future is making a simple syrup out of it that I can freeze and use in a variety of drinks. Here we top off the sweet tart syrup with a splash of sparkling wine for a refreshing spritzer, perfect for a mother's day brunch! You'll need to make the syrup several hours in advance so it has time to chill. The active work time is only a few minutes.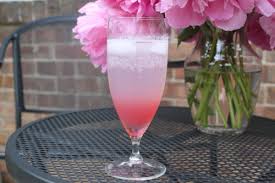 Servings: 1 Prep Time: 3 hrs Cook Time: 20 minutes Total Time: 3 hrs 20 minutes
Ingredients
Instructions
Combine the rhubarb and sugar along with about 3/4 cup water in a saucepan and bring to a boil. Reduce to a simmer and cook until thickened, about 20 minutes. Allow the syrup to cool. Place a fine mesh sieve over a bowl and strain the syrup, pressing on solids to extract as much juice as you can. Place syrup in refrigerator and chill for a couple of hours. This can be made up to a week ahead of time.
Pour 2 tablespoons of the rhubarb syrup into a champagne flute and top it with lemon juice and prosecco. Serve chilled.