Local Thyme to Offer Menu Planning to Farmers Market Shoppers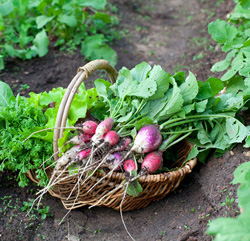 Starting June 14th, Local Thyme Menu Planning will provide weekly menu plans for individuals who shop at area farmers markets. For $60/year, individuals can sign up at LocalThyme.com to receive weekly menu plans that include custom recipes for five meals each week, shopping lists for seasonal and pantry items, cooking support, and more. "People love to shop the farmer's markets, but sometimes they get home with all this beautiful produce and don't really know where to start," says Laura Gilliam of Local Thyme. "We have a great collection of recipes that include just about every combination of things you'd find at area farmers markets."
Local Thyme is introducing their farmers market menu planning service because they wish to reach more people who love to cook and eat locally. "There's a growing interest in eating seasonally, and we want to help make it easier for busy families and individuals," says Laura. "Each Friday we'll post three meal plans—gluten-free, vegetarian and omnivore—and shopping lists so that the planning is already done."
Patricia Mulvey and Laura Gilliam of Madison own Local Thyme. Pat is a personal chef and an editor/contributor to the FairShare CSA Coalition's cookbooks: Farm-Fresh and Fast and From Asparagus to Zucchini: A Guide to Cooking Farm Fresh Seasonal Produce. Many of Local Thyme's recipes are included in the new cookbook, Farm-Fresh and Fast. Laura's specialty is cooking for individuals with diet restrictions and is a self-described "fermentation-freak" and preserver. Both Pat and Laura are passionate about helping people eat healthier, supporting local farms, and helping families learn how to incorporate fresh, seasonal vegetables into their busy lives.
Local Thyme started in 2012 by providing menu planning for CSA farms. The number of CSA farms they serve this year has more than doubled, and continues to expand. "We knew many people who were afraid to join CSA farms because they had experienced 'veggie guilt,' an unfortunate condition involving rotting CSA produce," says Pat Mulvey. "We also wanted to support local farms and help people enjoy fresh, seasonal produce. When we looked online for recipes using seasonally available produce, we found few that didn't include out-of-season ingredients. For example, asparagus recipes that include tomatoes aren't seasonal for Wisconsin. On Local Thyme's website right now we've developed many recipes crafted around what's currently available from local farms. As chefs, we test our recipes so we're confident the recipe is worth making."
Contact: pat@localthyme.com or laura@localthyme.com for more info.