June 2020 Recipe of the Month
Pureed Asparagus Soup
The potato makes this soup rich and creamy without the addition of any cream! Yum. I like this soup chilled as much as I like it hot — I think of it as Asparagus Vichyssoise. As a matter of fact, if you have any wild ramps growing in your yard, add them to this! This would serve 4 as a main meal, or 6 as an appetizer.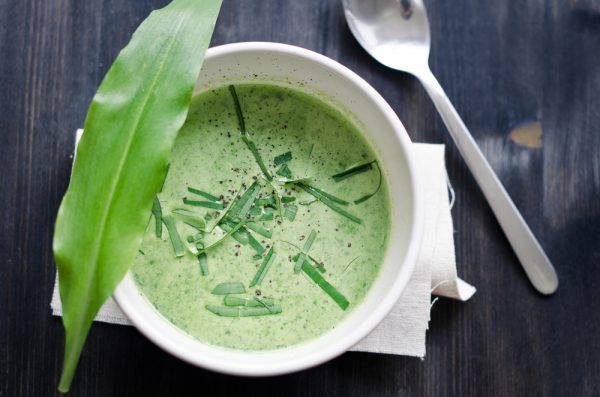 Servings: 4-6 Prep Time: 10 minutes Cook Time: 25 minutes Total Time: 35 minutes
Ingredients
6 cups Chicken or Vegetable Stock
1 pound Potato, peeled and chopped
1 stalk Green Garlic, trimmed and chopped
1 pound Asparagus, washed and rough chopped
Salt and Pepper
Instructions
Pour stock into a soup pot, add potatoes and green garlic. Bring to a boil, and skim any foam that rises. Simmer soup for 10 minutes. Stir in the asparagus and simmer 10 minutes longer until the veggies are all soft. Puree the soup in batches until smooth. For an extra silky soup, pass it through a fine mesh strainer. Return soup to pot and simmer to warm through. Season with salt and pepper. If you have a lemon on hand, give a little squeeze of juice at the very end to brighten the flavor a bit. If you have any herbs in your garden, garnish the soup with a snip of chives, or a chop of parsley or dill or thyme.
Comments
4 Responses to "Pureed Asparagus Soup"
lavoith says:
May 28, 2013 at 5:27 pm  (Edit)
This was very simple to make and quite tasty. I ended up doubling the recipe and it has kept well for the past couple of days.
nomadicmommy says:
May 30, 2013 at 6:46 pm  (Edit)
I loved this soup! Thanks for the recipe
Raymondo says:
June 8, 2015 at 7:02 pm (Edit)
So tasty, and so quick and easy to make
sarahluetzow says:
June 4, 2018 at 1:09 pm  (Edit)
Yum. I loved this recipe!