June 2019 Recipe of the Month
Asian Lettuce Wraps with Peanut Hoisin Sauce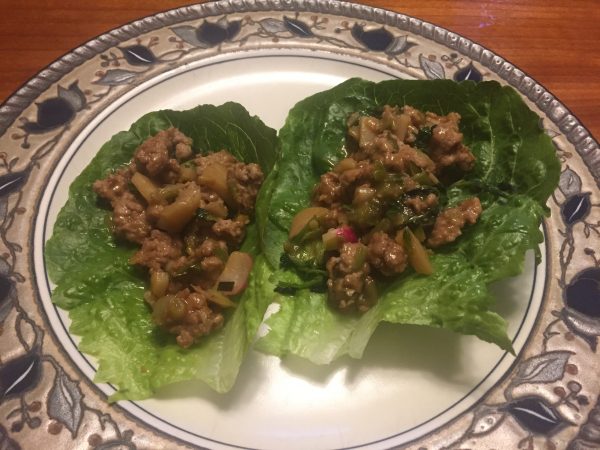 I've been making the same Asian style lettuce wrap recipe (or many variations on the recipe) for years, and while everyone loves the flavor of the dish, none of us are crazy about the sauce dripping down our arms as we eat. I poked around on the internet looking for a sauce for the sautéed meat and veggies that maybe wouldn't drip — and found the sauce described below on Taste of Home website. It was really flavorful, and it wasn't messy at all! DELICIOUS, we ate every scrap that I made. The joy of this recipe is that you can make it using just about any veggie you want sautéed into the meat — any leafy green, any crunchy veg (think carrot, kohlrabi, salad turnip, radish), any allium…you can throw the whole crisper in there!
Servings: 4 Prep Time: 25 minutes Cook Time: 15 minutes   Total Time:40 minutes
Ingredients
whole leaves Lettuce, generally, soft lettuce like bibb, butter, boston, red or green leaf work better than a crunchy lettuce like romaine
1/3 cup Low-Sodium Teriyaki Sauce, we used P.F. Chang Brand — it had 1/2 the sodium of most other brands, though it wasn't labeled as low sodium (they do not pay me to write that)
1/4 cup Hoisin Sauce
3 tablespoons Peanut Butter, you can use either smooth or crunchy depending on the texture you want
1 tablespoon Rice Vinegar
1 tablespoon Toasted Sesame Oil
2 tablespoons Canola Oil, divided use
1/2 cup Onion, chopped, or scallion, or sub 1 teaspoon onion powder
3 cloves Garlic, minced, or sub 1/2 teaspoon garlic powder
1 tablespoon Ginger, minced
1.5 pounds Ground Turkey
2 medium-large Salad Turnip, peeled and diced
1 bunch Salad Turnip Greens, well washed, spun dried, chopped
1-2 cup Pea Shoot
1 8 ounce can Water Chestnut, chopped
2 tablespoons Cilantro, chopped
Instructions
Wash your leaves of lettuce, and place on a serving plate on the table.
In a small bowl, whisk together the teriyaki sauce, hoisin, peanut butter, vinegar and toasted sesame oil. Set aside.
Heat 1 tablespoon of canola oil in a large skillet. Sauté onion until tender, about 6-7 minutes, then add the garlic and ginger and sauté another minute. (If using garlic and onion powder, just briefly sauté the ginger.) Add the turkey to this mixture (at this point sprinkle on onion and garlic powder if using) and sauté until the turkey is cooked through. Scrape the turkey mixture into a bowl and reserve.
Add remaining oil to skillet, and sauté salad turnips for about 2-3 minutes, until crisp tender, then add in turnip greens, and sauté until almost wilted, then add in pea shoots and sauté a few seconds more. Fold the cooked turkey, water chestnut and sauce mixture back into the skillet and sauté until well combined.
Bring the turkey mixture to the table and allow all diners to fill a leaf of lettuce (or two or three) with the filling, sprinkle on some cilantro and fold the leaf and enjoy!