June 2018 Recipe of the Month
Longevity Soup with Mustard Greens, Shiitakes, Snap Peas, and Tofu or Shrimp
The Longevity Kitchen cookbook shares the flavors, habits, and diet of people in Japan, who are renowned for their longevity, with Japanese women having the longest life expectancy of 86 years. In this tasty soup, the authors, Katz and Edelman, add an unusual element to a miso based soup — green tea! It adds an alluring herbaceous note to the soup. For a gluten free version of this dish, be certain that the soba noodles are made with 100% buckwheat, which isn't actually a wheat and is gluten-free. My favorite thing about this recipe is that it works with just about any ingredients you have on hand: any leafy greens work; I love it with radish, salad turnips, ribbons of carrot. Whatever you choose!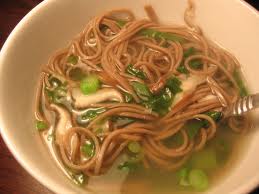 Servings: 4 Prep Time: 20 minutes Cook Time: 10 minutes Total Time: 30 minutes
Ingredients
4 ounces Soba Noodles, 100% buckwheat for gluten free
4 cups Chicken or Vegetable Stock
1 teaspoon Toasted Sesame Oil
1 strip Kombu Seaweed
3 Green Tea Bags
1 bunch Mustard Greens, stems removed, leaves chopped
1/2 cup Shiitake Mushroom, stemmed, quartered
4 ounces Firm Tofu or Shrimp, cubed or shrimp cleaned
1 cup Snap Pea, stringed, chopped
2 tablespoons Tamari
1/4 cup White Miso
1 tablespoon Lemon Juice
Instructions
Cook soba noodles according to package instructions. Rinse with cool water and divide among 4 bowls each drizzled with 1/4 teaspoon of sesame oil. Pour stock into saucepan with kombu and tea bags. Bring to a boil and simmer 4 minutes. Discard kombu and tea bags. Add the greens, shiitakes and tofu or shrimp to the simmering broth and cook 5 minutes. Stir in the snap peas, Tamari, miso, and lemon juice and cook another 2 minutes. Ladle soup over noodles and serve hot.