June 2016 Recipe of the Month
Cheddar Scape Biscuits
A basic buttermilk biscuit becomes exquisitely aromatic with the additions of scapes and cheddar.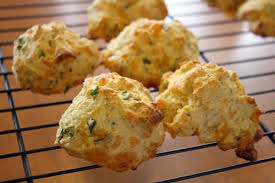 Servings: 6 Prep Time: 15 minutes Cook Time: 15 minutes Total Time: 30 minutes
Instructions
Preheat oven to 400˚. Mix dry ingredients together. Cut butter into tablespoons and, with fingers, blend into dry ingredients until mixture resembles cornmeal. Stir in cheese and scapes.
Stir 1/2 cup buttermilk into beaten egg and add mixture to flour mixture. Stir quickly, adding more buttermilk as necessary until dough forms a ball. Turn onto floured surface and knead briefly.
Let dough rest for a minute, then roll out to 3/4′ thickness. Cut into 2′ rounds. Place biscuits on baking sheet, 1″ apart.
Bake at 400 degrees for 15 minutes or until golden brown.