July 2018 Recipe of the Month
Aloo Gobi
A high school friend cooked this for me some 30-odd years ago as an introduction to her family's culture and food. I had never tasted anything like it before, and I still remember the very specific smells and sensations of that night. The chili pepper was a shock to my uninitiated palette, but I was completely in love with the flavors and textures. It has remained a favorite dish for me. Serve with basmati rice or nan. If you don't enjoy spicy food, add a teeny bit of chile and taste — you can always add more, but you can't take it out!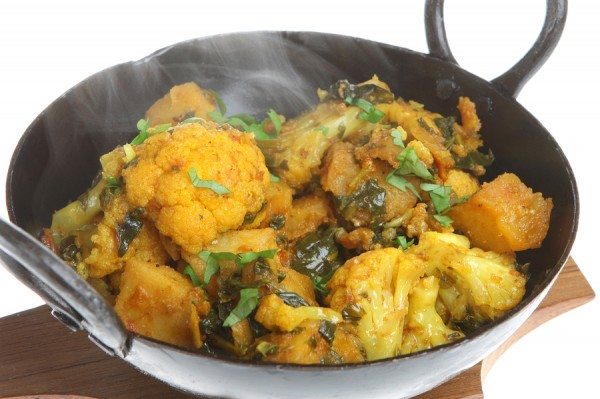 Servings: 2 Prep Time: 15 minutes Cook Time: 25 minutes Total Time: 40 minutes
Ingredients
3 tablespoons Canola or Sunflower Seed Oil
1 medium Onion, sliced
1 teaspoon Ginger, minced
1 teaspoon Garlic, minced
2 small Green Chile, chopped
1 cup Russet Potato, peeled, diced into 1 inch cubes, about 3 cups
2/3 cup Tomato, chopped, if you don't have fresh, use canned
1/4 cup Water
1/2 small head Cauliflower, broken into florets, about 6 ounces
1 teaspoon Garam Masala
1/2 teaspoon Turmeric
Salt
2 tablespoons Cilantro, optional minced
Instructions
Heat the oil in a large heavy skillet (that has a lid) over high heat. Sauté the onions with a pinch of salt until softened and starting to color a bit. Add in the ginger, garlic, chiles and potatoes and sauté until fragrant, about 1 minute. Add the tomatoes and water and sauté until tomatoes begin to lose their shape.
Stir in the cauliflower, garam masala and turmeric, and season with another pinch of salt. Cover, reduce heat to medium/ moderately low, and cook for about 15-20 minutes, stirring occasionally. Sprinkle in cilantro, adjust seasonings and serve hot with basmati rice, or takeout Indian bread of choice.