July 2015 Recipe of the Month
July 2015 Recipe of the Month
Ensenada Slaw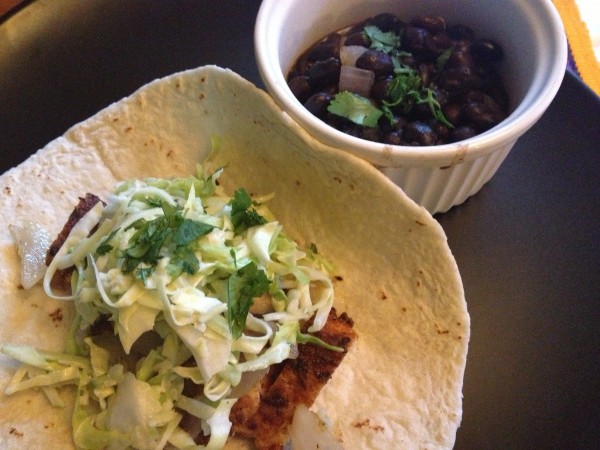 After an unfortunate incident involving a borrowed car and a boulder, my husband and I were stranded in Ensenada, Mexico for a long, hot weekend several years ago. While our trip was a comedy of errors worthy of its own movie starring Steve Carrell and TIna Fey, one good thing that came out of it was discovering the simple slaw served at almost every restaurant. Lightly dressed crisp vegetables with a hint of heat continue to be one of my favorites. We first discovered it while enjoying fish tacos while a Mariachi band serenaded us with "Besame Mucho". I've included a simple fish taco recipe here as well. The recipe is flexible and forgiving. The dressing works well with about 6-8 cups of shredded veggies, and the vegetables can be adjusted based on what is seasonal and on hand.
Ingredients
1/2 head Cabbage , cored and shredded, about 4-6 cups
1 bunch Broccoli Stems , peeled and shredded, about 2 cups
1/2 cup Mayonnaise
4 teaspoon Lime Juice
4 or more dashes Tabasco Sauce , to taste
2-4 tablespoons Cilantro, to taste
Salt and Pepper
Instructions
Mix veggies together in a bowl. In separate bowl whisk together mayo, lime juice and tabasco. Toss with veggies and sprinkle to taste with cilantro, salt and pepper. Put in fridge while you prep the fish tacos.
Fish Tacos
2 1/2 tablespoon Olive Oil
2 tablespoons Paprika
1 1/2 tablespoons Dried Oregano
1 tablespoon Garlic , minced
1 1/2 teaspoons Cumin
1 1/2 teaspoons Red Pepper Flake
1 1/2 teaspoons Lime Zest
1 1/2 teaspoons Kosher Salt
1/4 teaspoon Pepper
1 pound Halibut, or other flaky white fish fillets
Tortillas and additional condiments of choice for serving
Preheat oven to 350˚. Make a spice rub by combining olive oil, paprika, oregano, garlic, cumin, red pepper flakes, lime zest, kosher salt and pepper, then rub it all over the fish. Heat a nonstick pan over high heat until very hot. Dab a little oil in the pan and pan sear the fish, flesh side down until browned. Turn fish to other side, and place in oven and cook until fish reaches an internal temperature of 145˚, about 6-7 minutes.  Remove, cover and allow to rest at least 5 minutes. Serve on a tortilla, with a heaping pile of slaw and other condiments of your choice — salsa, guacamole, sour cream etc. The spice rub is inspired by a recipe in Gourmet Magazine from June 2007.