January 2019 Recipe of the Month
Laotian Glass Noodles with Shredded Veggies
One of my favorite recipes from the Asparagus to Zucchini cookbook was contributed by a middle-school aged girl, and features the delightful balance of sweet, salty, sour, and hot that is the highlight of Southeast Asian cuisine. Her original recipe calls for chicken and a different set of vegetables, but the sauce and noodles are endlessly adaptable to the vegetables you may have in hand. This is one of MANY variations I have made of this delicious recipe. Use a food processor to shred the vegetables to make for a quicker prep time.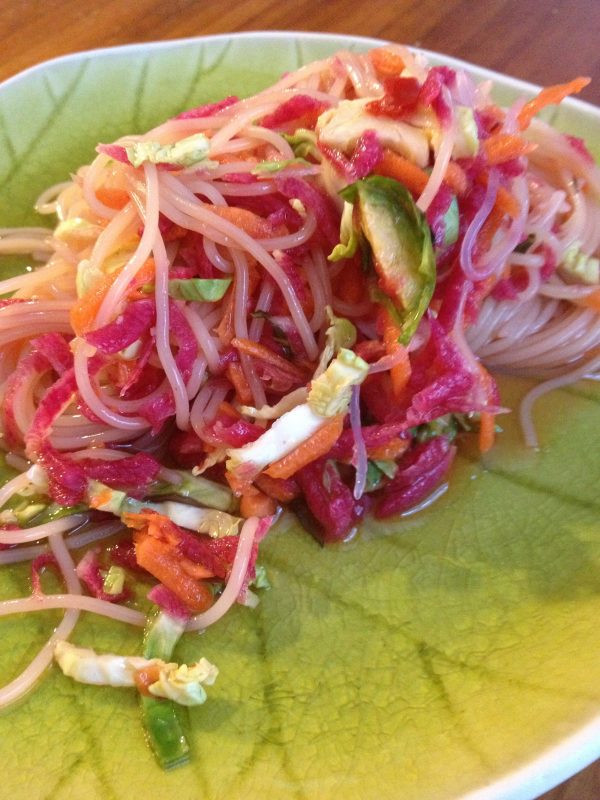 Servings: 6 Prep Time: 25 minutes Cook Time: 5 minutes Total Time: 30 minutes
Ingredients
3 bundles Bean Thread Noodles, aka mung bean threads, glass noodles
1/2 cup Sugar
1/2 cup Water
1 cup Asian Sweet Chili Sauce*, Mae Ploy brand is recommended
1/2 cup Lime Juice
1/2 cup Fish Sauce, substitute tamari for gluten free and vegetarian
1 cup Onion, very thinly sliced
1 cup Carrot, shredded
2 cup Napa Cabbage, shredded
1 cup Beauty Heart Radish, peeled and shredded
1/2 cup Thai Basil, or Cilantro, chopped
1/2 cup Peanut, chopped
Instructions
Prepare glass noodles according to package instructions. Bring water to boil, then dissolve sugar in it off heat. Allow to cool to about room temperature. Stir in sweet chili sauce, lime juice and fish sauce. Toss with noodles, veggies, herbs and nuts. Serve room temperature or cold.