January 2016 Recipe of the Month
January 2016 Recipe of the Month
Black Eyed Peas and Collard Greens Stew
New Year's Day is celebrated in many cultures with a bowl of black eyed peas and greens. This tradition dates back 1500 years to a traditional Rosh Hoshanah dish, and migrated with the Sephardic Jews to the American South. Grab some cornbread to sop up this stew — you will be living large, southern style, with this delicious meal! The beans do soak overnight, so start that the day before you want the stew. You can expedite the preparation time by using 2 14 ounce cans of beans if you prefer, in which case, you can reduce the initial simmering time to about 5 minutes.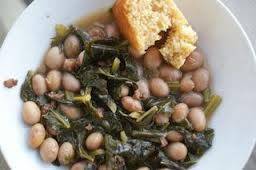 Ingredients
2 cups Dried Black Eyed Peas , picked over and rinsed
1 tablespoon Olive Oil
1 cup Onion , chopped
4 cloves Garlic , minced
1/2 pound Smoked Turkey Breast or Ham , cut into cubes
OR *
1 dash Liquid Smoke
6 cup Chicken or Vegetable Stock
1 bunch Collard Greens , center stems removed
1 dash Hot Sauce , to taste
1 teaspoon Cider Vinegar
Salt and Pepper , to taste
Instructions
Soak the black eyed peas overnight in water. Drain and discard water.
Heat olive oil in a soup pot over medium high heat. Add onion and garlic and sauté until wilted about 6 minutes. Add in diced meat or liquid smoke and stock, bring to a boil, reduce to a simmer and cook until beans are tender, about 45 minutes.
Thoroughly clean and rough chop your greens. Stir greens into soup and simmer for about 20 minutes. Season soup with hot sauce, vinegar and salt and pepper to taste.