February 2020 Recipe of the Month
Vegan Valentine's Beet Chocolate Lava Cake
Sometimes members request vegan versions of my recipes. However, when it comes to vegan desserts, I often find them wanting. But this recipe has a richness and moisture that fooled all the non-vegans in my family!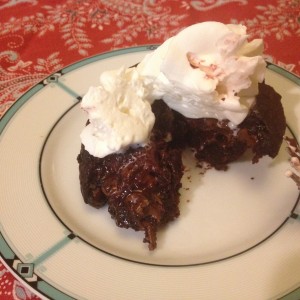 Serves 6  Prep Time: 60 minutes
Ingredients
1 Beet
3/4 cup Almond Milk
1 teaspoon Apple Cider Vinegar
1/2 cup Raw Organic Cane Sugar
3 tablespoons Earth Balance Spread , melted
1 teaspoon Vanilla Extract
1/2 teaspoon Baking Powder
1/4 teaspoon Baking Soda
1/2 cup Unsweetened Dutch-Process Cocoa Powder
3/4 cup + 2 tablespoons Flour
2/3 cup Vegan Chocolate Chips , divided use
Vegan Ice Cream
Instructions
Preheat oven to 375˚. Generously spray 6 cups of a muffin tin with cooking spray. Prick the beet all over with the tines of a fork. Place in a microwave safe bowl immersed in water and microwave until tender and easily pierced with a skewer. All microwaves vary in strength, and the age of the beet affects how long it will take until cooked. I used the baked potato button on my microwave, and had to do it 3x to get it tender, about 15 minutes. Just keep checking every few minutes.
While beet is cooking, mix the almond milk with the vinegar and allow to stand at room temperature. When the beet is tender, peel and rough chop. Place beet in a food processor and chop fine.
Either in a stand mixer or with a hand held mixer, beet the almond milk mixture into the beets. Add ingredients through the flour and beet until incorporated.
In a microwave safe bowl, microwave 1/3 cup of chocolate chips at 30 second intervals until just melted. Beat the melted chips into the batter.
Pour about 1/2 the batter into the prepared muffin tins. Place 1 tablespoon chips in the center of each cake, then top with remaining batter. Bake only until the top of each cake is no longer wet — ovens can vary, so keep a very close eye on these starting around 10 minutes. I pulled mine out at 14 minutes, and it was barely runny, so 12 minutes should be about right. (The blogger says she cooked her 17 minutes and it wasn't runny, but was a fudgy tasty consistency)
Run a knife along the sides of the cakes, and carefully turn out onto a cutting board. Place each cake on a plate, top with a scoop of ice cream (we used vanilla) and serve hot.