December 2019 Recipe of the Month
Crisp Potato Latkes
The crisp perfection that is a latke requires serious reduction in the amount of liquid present in the potato. To achieve dry strands of potatoes, I salt the raw shreds, place them in cheesecloth, and squeeze the heck out of them. If I'm feeling ambitiously purist, I will catch the liquid in a bowl, and wait a bit for the water to separate from the natural potato starch, drain off the liquid and use the starch as a binder in the latkes. But I'm rarely that ambitious or pure. Flour, store bought potato starch and matzo meal all work equally well here. If you don't have onions — use scallions or chives. Serve this with apple sauce or sour cream or both!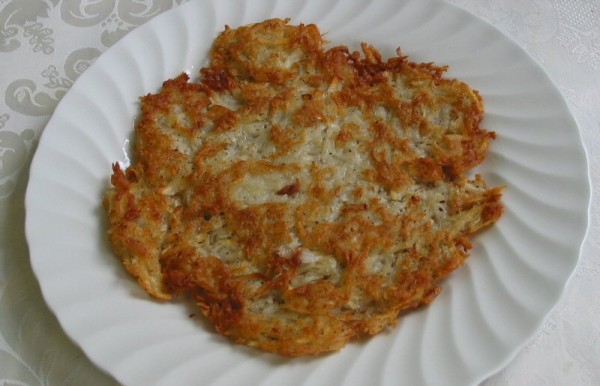 Servings: 4 Prep Time: 25 minutes Cook Time: 20 minutes Total Time: 45 minutes
Ingredients
1 pound Potato , shredded in food processor or on box grater
1/2 cup Onion , shredded in food processor or on box grater
3 tablespoons Flour or Matzoh Meal , use 1/2 amount of Potato Starch if desired
1 large Egg , lightly beaten
Salt and Pepper
2 tablespoons Vegetable Oil
2 tablespoons Unsalted Butter
Instructions
Take your shreds of potato, and sprinkle them with some salt. Lay them on a nice big piece of cheesecloth and give the salt 10 minutes or so to extract some moisture. Then wrap up the potatoes in the cheesecloth and wring, wring, wring as much moisture as you can get out of those strands. The drier, the crispier!
Toss the potatoes with the onion, flour and egg. Season with a scant teaspoon of salt and a crack or two of black pepper. Heat a cast iron skillet over medium high heat. Warm the oil and melt the butter. When the butter ceases to foam place little scoops of potato mixture into the pan, being careful not to crowd and flatten them with a spatula. Cook until crisp and browned on one side, about 2-3 minutes. You'll see the edges start to turn brown, and know they are ready to flip. Flip over and cook other side another 2 or so minutes. Remove from pan and drain on towels and continue cooking until all mixture is used up. These can be kept warm in a low oven, or made ahead of time, and reheated in a 350˚ oven for about 8 minutes.