August 2018 Recipe of the Month
Golden Gazpacho
One hot night, I decided to make a cold soup using cucumbers and corn. Then I realized that I also had some ripe yellow heirloom and cherry tomatoes, and Golden Gazpacho was born! Sweet, a definite corn note lingering after the more traditional gazpacho flavors. This was a refreshing element of a meal on a hot night.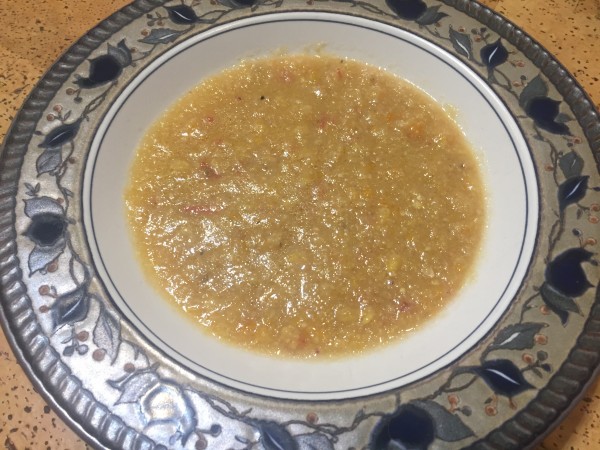 Servings: 8 Prep Time: 20 minutes Cook Time: 6-8 minutes Total Time: 26-28 minutes
Ingredients
2 ears of Corn, husked
4 cups Yellow Tomato, rough chopped, I used a combination of sun golds, yellow grapes and an heirloom
3 medium Cucumber, peeled, rough chopped
1/3 cup Onion, rough chopped
1/4 cup Rice Vinegar
2/3 cup Extra Virgin Olive Oil
pinch Cayenne, to taste
Salt and Pepper, to taste
Instructions
Bring a pot of water to a boil, then cook the corn until tender, about 6-8 minutes. Run corn under cool water until it is cool enough to handle, then remove kernels from the ears.
Puree all the veggies, vinegar and oil in a blender in batches, transferring pureed soup to a serving bowl. You can puree it until super smooth or leave it a little chunky based on your taste. Season to taste, refrigerate until cold and serve.