August 2017 Recipe of the Month
August 2017 Recipe of the Month
Ratatouille

A classic dish — ratatouille — that uses an abundance of mid-late summer vegetables in a tasty stewed melange. You can eat it as is, or serve over polenta, rice, pasta. Thanks to the Pixar movie of the same name, my kids BEG me to make this dish as soon as the first eggplants and peppers arrive in our CSA share.
Ingredients
1 pound Eggplant , cubed
2 teaspoons Kosher Salt
3 tablespoons Olive Oil
2 Red Bell Pepper , diced
2 Onion , diced
2 tablespoons Garlic , minced
2 Zucchini , diced
4 Tomato , diced
2 teaspoons Herbes De Provence
1/4 cup Basil , torn
1 cup Marinara Sauce
Salt and Pepper , to taste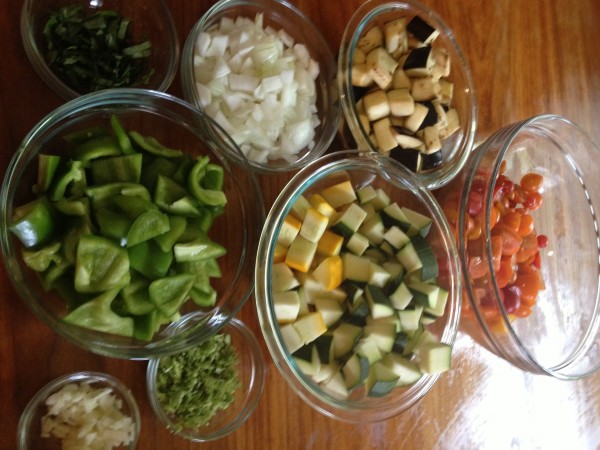 Instructions
Put the cubed eggplant in a colander and sprinkle with kosher salt. Toss well and set aside to drain.
After about 20-30 minutes, rinse off eggplant, pat dry. Heat the olive oil over medium – high heat in large skillet or wok. Add the eggplant and cook, stirring occasionally, until lightly browned. Add in the red pepper, onion, and garlic. Cover and cook over medium heat, stirring occasionally, until the vegetables are soft, about 25 minutes.
Stir in the zucchini, tomatoes, herbs and sauce, cover, and cook until just tender, about 10-20 minutes. Season to taste with salt and pepper, and serve.