August 2016 Recipe of the Month
Salade Niçoise with TunaFish
This classic French salad combines the flavors of the month of August — potatoes, beans, tomatoes, peppers with a lovely herbed vinaigrette and of course tuna, hard boiled eggs and olives. We use dained canned tuna here, but you may substitute grilled fresh tuna steaks for a splurge. My kids favorite part of this meal — I serve it as a "composed" salad — each individual item arranged on a platter (or many) so that everyone gets to take the items they most want.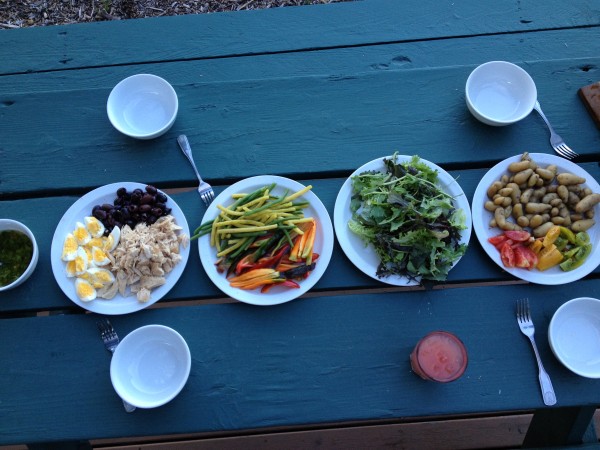 Ingredients
4 Egg
12 ounces Yellow and Green Beans , trimmed and cut to 2 inch lengths
1 1/2 pound Red Potato , well scrubbed, diced into equal bite sized cubes
1/4 cup Red Wine Vinegar
2 tablespoons Shallot , finely minced
2 teaspoons Dijon Mustard
2 Anchovy , flat ones, mashed
1 teaspoon Dried Oregano , here use Turkish or Greek, not Mexican
1 cup Extra Virgin Olive Oil
12 ounces Tunafish, drained and flaked
2 Bell Pepper , cored, seeded and sliced bite-size
1 1/2 pounds Tomato , cored and sliced into wedges
6 ounces Lettuce
1 cup Niçoise Olive , pitted, if desired
1/4 cup Parsley , leaves only, roughly chopped
Salt and Pepper , to taste
Place the eggs in a medium saucepan and cover with cold water. Bring water to a boil, then take off heat, cover and allow eggs to sit until hard cooked, 7 minutes. Drain, rinse with cold water, and place in refrigerator (or for a short time in the freezer) to cool. Cold eggs peel more easily. When you are ready to serve, peel and quarter the eggs.
Simultaneously, heat a large pot of water with a steamer insert to a boil. Steam the beans for 4-5 minutes, until just tender. Remove from the steamer basket while keeping the water boiling, rinse the beans under cold water to stop them from cooking, and drain well. Next add potatoes to the steamer insert, cook until tender and easily pierced, about 15 minutes.
In a medium bowl, whisk together the vinegar, shallot, mustard, mashed anchovies, dried oregano. Add the olive oil in a stream while whisking until emulsified. Season to taste with salt and pepper.
Arrange all the components of the salad on a large platter or several smaller ones: beans, potatoes, eggs, bell pepper, tomatoes, lettuce, tuna and olives. Sprinkle the parsley over, and, invite everyone to make a plate. Pass dressing to drizzle over each plate.