April Recipe of the Month
Potato, Spinach and Sausage (or Mushroom), Frittata with Parmesan
A hearty and satisfying frittata makes a lovely brunch or a simple dinner. I like this one with parmesan, but it also works really well with other cheeses if that's what you have on hand.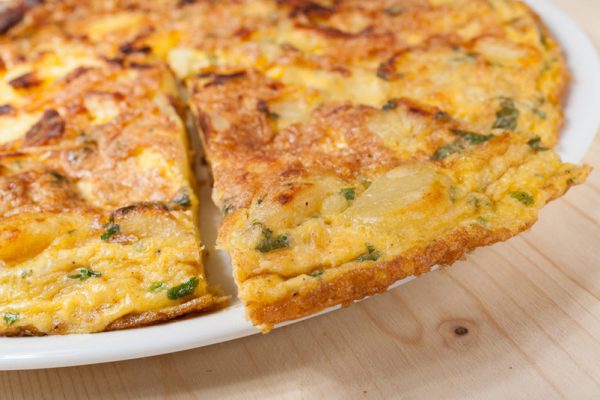 Servings: 8 Prep Time: 10 minutes Cook Time: 35 minutes Total Time: 45 minutes
Ingredients
6-8 ounces Spinach, remove stems and roughly chop
1.5 pound Potatoes, sliced into 1/4 inch rounds, fingerlings, red, any kind really
10 Eggs
1/4 cup Grated Parmesan Cheese, divided use
1 teaspoon Salt, divided use, plus salt for cooking water
2 tablespoons Olive Oil
1 cup Onion, thinly sliced or 4 stalks green garlic, sliced
3 Italian Sausage, or veggie links, or 12 ounces mushrooms, sliced
Instructions
Preheat oven to 375˚. Bring a pot of water to boil, and add some salt to the water. Toss in the spinach and cook until wilted, about 3 minutes. Scoop the spinach out of the water with a slotted spoon and transfer into a colander in the sink to cool. Put potatoes into the boiling salted water and par-cook until just tender, about 5 minutes. Meanwhile, squeeze excess moisture out of spinach, and move to a small bowl. Drain the potatoes in the colander.
While potato and spinach are cooking, crack the eggs into a mixing bowl. Season the eggs with 2 tablespoons parmesan cheese and 1/2 teaspoon salt and a crack of black pepper.
Heat a 9″ oven-proof non-stick skillet over moderately high heat and add in the oil, heat to shimmering. Sauté onions or green garlic and sausages (or one of the many meat substitutes) in the oil until onion is softened and starting to brown and the sausage is cooked through, about 7 minutes. Add spinach, potatoes and 1/2 teaspoon salt to the skillet, flipping them around until they are well mingled. Pour egg mixture over veggies, and tip pan a bit to distribute eggs evenly. Sprinkle remaining cheese atop the eggs.
Pop skillet into oven and bake for about 15 minutes until eggs are fully set. Give the pan a little shake, and if you see any liquid movement in the eggs, return them to the oven and check at 2 minute intervals until the eggs are set. Remove pan from oven, and place large plate on top of skillet, and carefully invert so that eggs flip out onto plate. Serve hot, room temperature or cold.
Comments
3 Responses to "Potato, Spinach and Sausage (or Mushroom), Frittata with Parmesan"
BethMom04 says:
June 24, 2015 at 4:29 pm  (Edit)
Made this yesterday morning and chilled it for an easily portable swim meet dinner. The whole family loved it. The recipe called for a 9 inch oven proof skillet, but I only have a 12 inch one, so I chopped about 1 and 3/4 pounds of potatoes and added 2 extra Italian Sausage links since there were 5 in my package. I also wound up using 14 eggs. I kept everything else pretty much the same. Delicious!
Mamieriyeff says:
May 20, 2017 at 7:32 pm  (Edit)
I omitted sausage because I didn't have any on hand. Increased spinach. Used green garlic from weekly share. Used 12 inch cast iron skillet. This recipe made my day because I make frittatas often due to our budget, and potatoes have never made it into one of them before. They really fill out the meal, with enough for another meal tomorrow! Served with a simple persian cucumber salad. So pleased by this 🙂
Pat Mulvey says:
May 20, 2017 at 8:50 pm  (Edit)
I'm so glad you enjoyed this! I love a frittata meal, and we often turn to a simple egg based meal for budgetary reasons too!