April 2018 Recipe of the Month
April 2018 Recipe of the Month
Spicy Beef and Winter Squash Chili
We think it is high time to make a pot of chili! We've added a little cinnamon and unsweetened chocolate to "mole-nize" this, and we hope you enjoy it this way–it gives the chili a richer, warm note. I highly recommend you freeze this if you can. One of those busy evenings in the colder months you'll be thankful for this easily reheated dinner. Enjoy with cornbread, rice, or tortillas to round it out, or just by itself for lunch.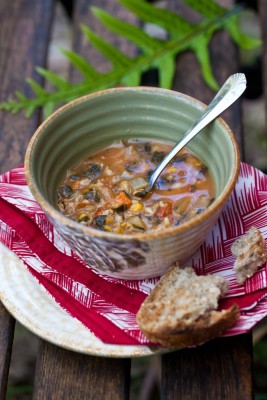 Servings: 6 Prep Time: 20 minutes Cook Time: 1 hr 20 minutes
Total Time: 1 hr 40 minutes
Ingredients
2 tablespoon Olive Oil , divided use
1 pound Beef Chuck , cubed
1 cup Onion , chopped
1 cup Carrot , optional, diced
1 Jalapeño , optiona, cored, seeded, chopped, or add hot pepper powder or sauce to taste
2 cloves Garlic , minced
1 tablespoon Chipotle in Adobo Sauce , (or to taste), pureed
2 tablespoons Chili Powder , more or less, to taste
1 teaspoon Cumin , ground
1 teaspoon Coriander , ground
1/8 teaspoon Cinnamon
1 tablespoon Cider Vinegar
1 14-ounce can Diced Tomato , or a few fresh tomatoes, chopped, with their juices
3 cups Beef Stock ,
1 ounce Unsweetened Chocolate , grated
1 small Winter Squash , peeled, seeded, cubed
1 14-ounce can Black Bean , rinsed and drained
Salt and Pepper , to taste
Instructions
Preheat a large, heavy pot over high heat. Add 1 tablespoon olive oil and heat until it shimmers. Generously season beef with salt and pepper, and working in batches, brown the beef on all sides. Remove browned meat to a bowl and reserve.
Add remaining oil to same pot over moderately high heat. Add the onion, carrot and pepper. Sauté until the veggies are almost tender, about 6 minutes, scraping up any browned bit in bottom of pan . Add the garlic, chipotle, chili powder, cumin, coriander, and cinnamon, and stir, scraping the bottom of the pot so the spices are gently toasted, but not scorched, for 1-2 minutes. Add the cider vinegar, tomatoes with their juice, and stock. Bring to a boil and skim off any foam that rises to the top. Stir the beef back into this.
Stir in the grated chocolate. Reduce heat to medium, cover and simmer until meat begins to become tender, about an hour. Stir in squash and occasionally stir gently, allowing the liquid to reduce some until squash is tender, about 15-20 minutes. Stir in the drained beans, and cook for another 5 minutes to warm. Taste, and add salt and pepper as desired.