April 2017 Recipe of the Month
Maple Glazed Grilled Sweet Potatoes:
A favorite March family outing has been moved to April this year due to the late return of winter. We will be heading up to our friend's tree farm in the Nicolet National Forest next weekend to help him gather and boil sap from his many maples. Our friend has built a pretty little wood-fire-powered sugar shack, where we will while away the hours talking, laughing, chopping wood, and keeping an eye on the boil. My job is always to invent new ways to cook with the syrup. This dish is one of the simpler tastier surprises invented while sugaring. You can oven roast the sweet potatoes for an hour or prick them with the tines of a fork and microwave them. Then just finish them off on a grill.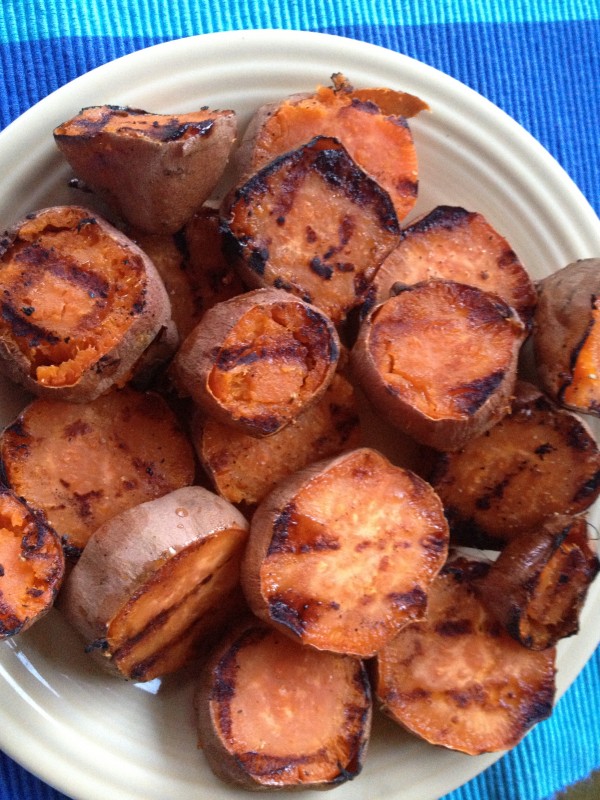 Serves 4
Ingredients:
2 Sweet Potato , scrubbed
1/4 cup Maple Syrup
Salt and Pepper , to taste
Instructions:
1.            If you have the oven on for whatever else you are cooking, you can roast your potatoes for about an hour until tender. Otherwise, microwave them until tender, about 10 minutes. My microwave has a sensor where all I do is hit the potato button, and it cooks it perfectly. Slice the potatoes, brush on some maple syrup, and grill over high heat for 2-3 minutes per side, just long enough to caramelize the syrup. Sprinkle slices with salt and pepper and serve.