Announcing Local Thyme
LOCAL THYME
A CSA Menu Planning Service
Have you ever thought about joining a CSA (community supported agriculture – farm membership) but decided not to because you were intimidated by the idea of keeping up with all those veggies?  Or have you quit a CSA because you felt guilty about wasting too much that was delivered?  Are you currently a CSA member, but wish someone could take the work out of plotting what to do with your weekly share?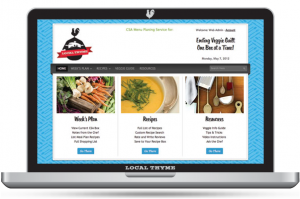 Local Thyme, a CSA menu planning service, was created to solve these problems for you.  Founded by Personal Chef Patricia Mulvey, an editor of From Asparagus to Zucchini: A Guide to Cooking Farm Fresh Seasonal Produce, and Laura Gilliam, an organic gardener who specializes in preserving, fermenting and pickling vegetables and in gluten-free diets, Local Thyme's goal is Ending Veggie Guilt One Box at A Time.
Local Thyme has partnered with 5 area farms for this year – Crossroads Community Farm, Tipi Produce, Wholesome Harvest, King's Hill and Keewaydin Farms, to offer customized meal plans with tested recipes and a shopping list for each box the CSA delivers over the course of the growing season.
In addition to customized meal plans for vegetarian, omnivore, and gluten free diets, Local Thyme's website has a vegetable identification section to help you tell apart your escarole apart from your lettuce,  your beauty heart radish from your rutabaga.  There's a recipe box where you can keep track of which recipes have been a big hit for your family, a members forum that allows members to swap tips and recipes, as well as venues for farmers, chefs and CSA members to teach one another how to cook a locally sourced diet.
While generic menu planning services are abundant on the web, most costing between $7-20 month, none are focused on our local foods, sustainable farming/eating, and none are customized for each specific CSA delivery.  Laura and Pat are eager to keep their service affordable for families, so even though their service is much more labor intensive and specialized than others on the market, they are pricing membership with Local Thyme at $60 for a 20-week CSA season, which comes to $3 per week.