Recipe of the Month
August 2018 Recipe of the Month
Golden Gazpacho
One hot night, I decided to make a cold soup using cucumbers and corn. Then I realized that I also had some ripe yellow heirloom and cherry tomatoes, and Golden Gazpacho was born! Sweet, a definite corn note lingering after the more traditional gazpacho flavors. This was a refreshing element of a meal on a hot night.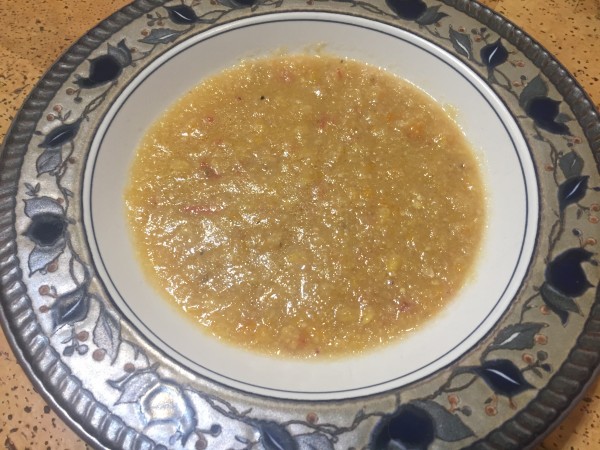 Servings: 8 Prep Time: 20 minutes Cook Time: 6-8 minutes Total Time: 26-28 minutes
Ingredients
2 ears of Corn, husked
4 cups Yellow Tomato, rough chopped, I used a combination of sun golds, yellow grapes and an heirloom
3 medium Cucumber, peeled, rough chopped
1/3 cup Onion, rough chopped
1/4 cup Rice Vinegar
2/3 cup Extra Virgin Olive Oil
pinch Cayenne, to taste
Salt and Pepper, to taste
Instructions
Bring a pot of water to a boil, then cook the corn until tender, about 6-8 minutes. Run corn under cool water until it is cool enough to handle, then remove kernels from the ears.
Puree all the veggies, vinegar and oil in a blender in batches, transferring pureed soup to a serving bowl. You can puree it until super smooth or leave it a little chunky based on your taste. Season to taste, refrigerate until cold and serve.
July 2018 Recipe of the Month
Aloo Gobi
A high school friend cooked this for me some 30-odd years ago as an introduction to her family's culture and food. I had never tasted anything like it before, and I still remember the very specific smells and sensations of that night. The chili pepper was a shock to my uninitiated palette, but I was completely in love with the flavors and textures. It has remained a favorite dish for me. Serve with basmati rice or nan. If you don't enjoy spicy food, add a teeny bit of chile and taste — you can always add more, but you can't take it out!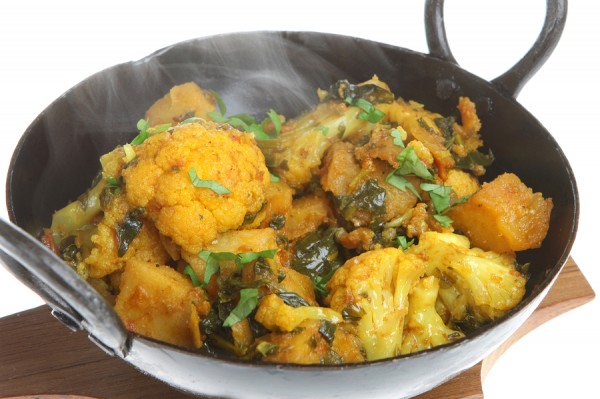 Servings: 2 Prep Time: 15 minutes Cook Time: 25 minutes Total Time: 40 minutes
Ingredients
3 tablespoons Canola or Sunflower Seed Oil
1 medium Onion, sliced
1 teaspoon Ginger, minced
1 teaspoon Garlic, minced
2 small Green Chile, chopped
1 cup Russet Potato, peeled, diced into 1 inch cubes, about 3 cups
2/3 cup Tomato, chopped, if you don't have fresh, use canned
1/4 cup Water
1/2 small head Cauliflower, broken into florets, about 6 ounces
1 teaspoon Garam Masala
1/2 teaspoon Turmeric
Salt
2 tablespoons Cilantro, optional minced
Instructions
Heat the oil in a large heavy skillet (that has a lid) over high heat. Sauté the onions with a pinch of salt until softened and starting to color a bit. Add in the ginger, garlic, chiles and potatoes and sauté until fragrant, about 1 minute. Add the tomatoes and water and sauté until tomatoes begin to lose their shape.
Stir in the cauliflower, garam masala and turmeric, and season with another pinch of salt. Cover, reduce heat to medium/ moderately low, and cook for about 15-20 minutes, stirring occasionally. Sprinkle in cilantro, adjust seasonings and serve hot with basmati rice, or takeout Indian bread of choice.
June 2018 Recipe of the Month
Longevity Soup with Mustard Greens, Shiitakes, Snap Peas, and Tofu or Shrimp
The Longevity Kitchen cookbook shares the flavors, habits, and diet of people in Japan, who are renowned for their longevity, with Japanese women having the longest life expectancy of 86 years. In this tasty soup, the authors, Katz and Edelman, add an unusual element to a miso based soup — green tea! It adds an alluring herbaceous note to the soup. For a gluten free version of this dish, be certain that the soba noodles are made with 100% buckwheat, which isn't actually a wheat and is gluten-free. My favorite thing about this recipe is that it works with just about any ingredients you have on hand: any leafy greens work; I love it with radish, salad turnips, ribbons of carrot. Whatever you choose!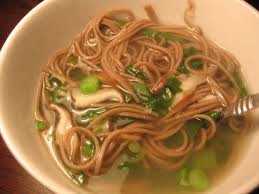 Servings: 4 Prep Time: 20 minutes Cook Time: 10 minutes Total Time: 30 minutes
Ingredients
4 ounces Soba Noodles, 100% buckwheat for gluten free
4 cups Chicken or Vegetable Stock
1 teaspoon Toasted Sesame Oil
1 strip Kombu Seaweed
3 Green Tea Bags
1 bunch Mustard Greens, stems removed, leaves chopped
1/2 cup Shiitake Mushroom, stemmed, quartered
4 ounces Firm Tofu or Shrimp, cubed or shrimp cleaned
1 cup Snap Pea, stringed, chopped
2 tablespoons Tamari
1/4 cup White Miso
1 tablespoon Lemon Juice
Instructions
Cook soba noodles according to package instructions. Rinse with cool water and divide among 4 bowls each drizzled with 1/4 teaspoon of sesame oil. Pour stock into saucepan with kombu and tea bags. Bring to a boil and simmer 4 minutes. Discard kombu and tea bags. Add the greens, shiitakes and tofu or shrimp to the simmering broth and cook 5 minutes. Stir in the snap peas, Tamari, miso, and lemon juice and cook another 2 minutes. Ladle soup over noodles and serve hot.
May 2018 Recipe of the Month
Roasted Trout with Asparagus and Radish
This delicious balsamic honey glazed meal highlights the flavor of the radishes — so sweet and mellow this time of year, and it is a whole new way to love asparagus. If you can't find trout fillets at the market, substitute salmon or other thin filleted fish, or try the vegetarian version of this recipe with tofu. The 40 minute prep time includes 30 minutes of unattended marinating time. The recipe scales up or down well.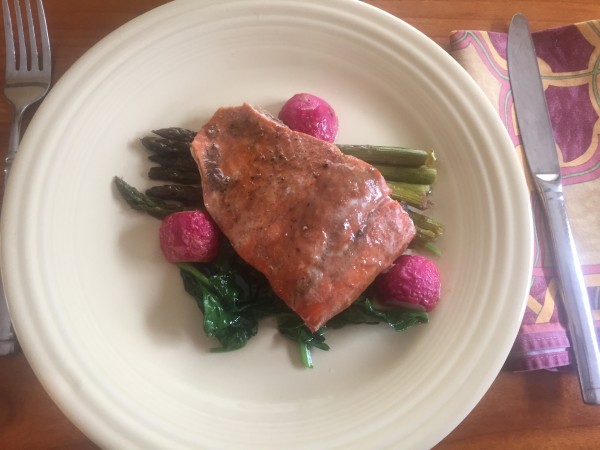 Servings: 4 Prep Time: 40 minutes Cook Time: 20 minutes Total Time: 60 minutes
Ingredients
3 tablespoons Honey
2 tablespoons Balsamic Vinegar
2 tablespoons Dijon Mustard
1 1/2 teaspoon Salt
Freshly cracked Black Pepper, to taste
1 1/2 pounds Trout, fillet
2 tablespoons Unsalted Butter, melted
6 Radish, if dainty, leave whole, medium, halved, large ones quartered
1 bunch Asparagus, washed, any tough ends trimmed
2 teaspoons Olive or Sunflower Oil
1 bunch Radish Greens, well washed
Instructions
Preheat oven to 425ºF. In a small bowl, whisk together honey, vinegar, mustard and salt until well blended. Spread about 3 tablespoons of honey mixture onto the flesh side of trout fillets and allow them to marinate at room temperature for about 30 minutes.
Stir melted butter into remaining honey mixture. Place radishes and asparagus in a large rimmed roasting pan lined with aluminum foil or parchment paper; toss vegetables with honey mixture. Roast for 5 minutes.
Push veggies to the side to make room for the fish. Add trout, skin side down, to the roasting pan. Spoon any sauce from the pan over the trout. Roast for about 10 minutes, until fish flakes easily when tested with a fork.
Meanwhile, heat the oil in a skillet over high heat. Wilt radish greens in hot oil, about 2 minutes. Season to taste with salt and pepper. Divide greens among 4 plates and serve fish and veggies over the greens.
April 2018 Recipe of the Month
Spicy Beef and Winter Squash Chili
Servings: 6 Prep Time: 20 minutes Cook Time: 1 hr 20 minutes
Total Time: 1 hr 40 minutes
We think it is high time to make a pot of chili! We've added a little cinnamon and unsweetened chocolate to "mole-nize" this, and we hope you enjoy it this way–it gives the chili a richer, warm note. I highly recommend you freeze this if you can. One of those busy evenings in the colder months you'll be thankful for this easily reheated dinner. Enjoy with cornbread, rice, or tortillas to round it out, or just by itself for lunch.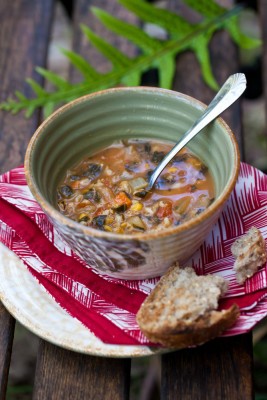 Ingredients
2 tablespoon Olive Oil , divided use
1 pound Beef Chuck , cubed
1 cup Onion , chopped
1 cup Carrot , optional, diced
1 Jalapeño , optiona, cored, seeded, chopped, or add hot pepper powder or sauce to taste
2 cloves Garlic , minced
1 tablespoon Chipotle in Adobo Sauce , (or to taste), pureed
2 tablespoons Chili Powder , more or less, to taste
1 teaspoon Cumin , ground
1 teaspoon Coriander , ground
1/8 teaspoon Cinnamon
1 tablespoon Cider Vinegar
1 14-ounce can Diced Tomato , or a few fresh tomatoes, chopped, with their juices
3 cups Beef Stock ,
1 ounce Unsweetened Chocolate , grated
1 small Winter Squash , peeled, seeded, cubed
1 14-ounce can Black Bean , rinsed and drained
Salt and Pepper , to taste
Instructions
Preheat a large, heavy pot over high heat. Add 1 tablespoon olive oil and heat until it shimmers. Generously season beef with salt and pepper, and working in batches, brown the beef on all sides. Remove browned meat to a bowl and reserve.
Add remaining oil to same pot over moderately high heat. Add the onion, carrot and pepper. Sauté until the veggies are almost tender, about 6 minutes, scraping up any browned bit in bottom of pan . Add the garlic, chipotle, chili powder, cumin, coriander, and cinnamon, and stir, scraping the bottom of the pot so the spices are gently toasted, but not scorched, for 1-2 minutes. Add the cider vinegar, tomatoes with their juice, and stock. Bring to a boil and skim off any foam that rises to the top. Stir the beef back into this.
Stir in the grated chocolate. Reduce heat to medium, cover and simmer until meat begins to become tender, about an hour. Stir in squash and occasionally stir gently, allowing the liquid to reduce some until squash is tender, about 15-20 minutes. Stir in the drained beans, and cook for another 5 minutes to warm. Taste, and add salt and pepper as desired.
March 2018 Recipe of the Month
Colcannon
A traditional Irish dish of mashed potatoes with cooked cabbage stirred in, my dad introduced me to this long ago, and I count it among my favorite comfort foods. The addition of bay leaf and carrot to the warm milk adds a subtly sweet and savory undertone to the mashed potatoes. This is delightful served with grilled salmon with a mustard sauce, or with a frittata, or my favorite way to eat it is just as is for breakfast.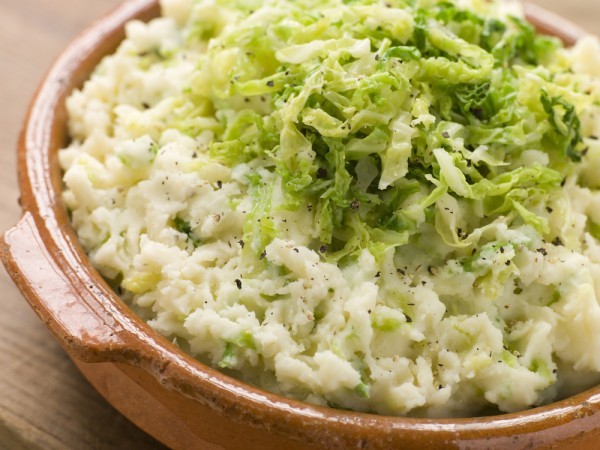 Servings: 4 Prep Time: 10 minutes Cook Time: 25 minutes Total Time: 35 minutes
Ingredients
1/4 cup Milk
1 Bay Leaf
1 small Carrot , chopped
1/3 Cabbage , cored and rough chopped
1 pound Potato , peeled
3 tablespoons Butter , to taste
1/2 teaspoon Salt , to taste
1/8 teaspoon Black Pepper , to taste
2 tablespoons Sour Cream
1/2 cup Scallion , chopped, optional
Instructions
Simmer bay leaf and carrot in milk, let steep.
Bring a pot of salted water to boil and toss in cabbage leaves to wilt for about 5 minutes. Fish the cabbage out with a slotted spoon and place into a colander in your sink to drain. Add potatoes to pot and cook until just tender, about 15-20 minutes.
While the potatoes are cooking, finely chop your cabbage and gently squeeze out any excess liquid.
Drain potatoes when tender. Place potatoes in a bowl, and mash them with butter, strain the milk into them, add sour cream, salt and pepper to taste. Stir in cabbage and scallions. Serve hot.
February 2018 Recipe of the Month
Quick Braised Cabbage and Apples with Riesling
The wine concept of "terroir," the way in which the land, soil, climate etc. influences the flavor of a wine, is also useful in thinking about wine and food pairings, and what wines to use in cooking certain foods. My paternal grandmother was Alsatian, and made delicious braised red cabbage dishes. In trying to play with some of the flavor profile of this classic Alsatian dish, I thought about terroir and turned to a classic Alsatian wine — Riesling. Deglazing the pan and simmering the veggies with a well balanced sweet-acidic Riesling brought out the crisply fruity flavors that lurk in the cabbage and beckoned for the addition of some apples to the dish. Delicious!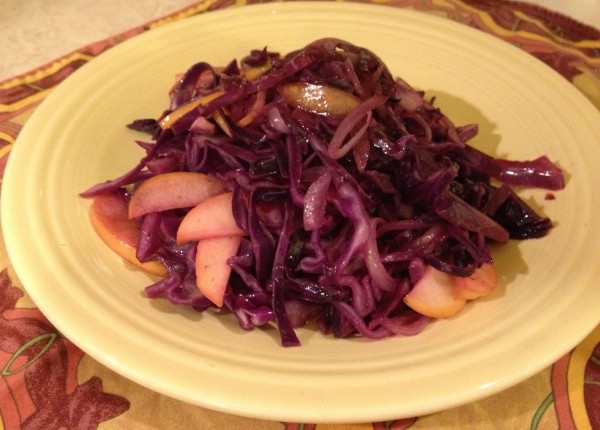 Servings: 4
Instructions
Heat the oil in a large skillet over medium high heat, when the oil shimmers, add onions with some salt and pepper. Sauté until onion is translucent, about 5-6 minutes. Stir in cabbage and dill, sauté until cabbage begins to wilt a little. Pour in the riesling, and bring to a boil, stirring occasionally. Cook until cabbage is crisp/tender to your liking. Stir in the apples and cook about 2 minutes, until tender but not breaking apart. Taste and adjust seasoning. Serve hot.
January 2018 Recipe of the Month
Kale Apple Smoothie
There is nothing quite like a cleansing green smoothie to get you off on the right foot for the New Year. If you have a high speed blender like a Ninja or a Vitamix, this will process silky smooth. If you don't, pass the smoothie through a strainer for a silky texture.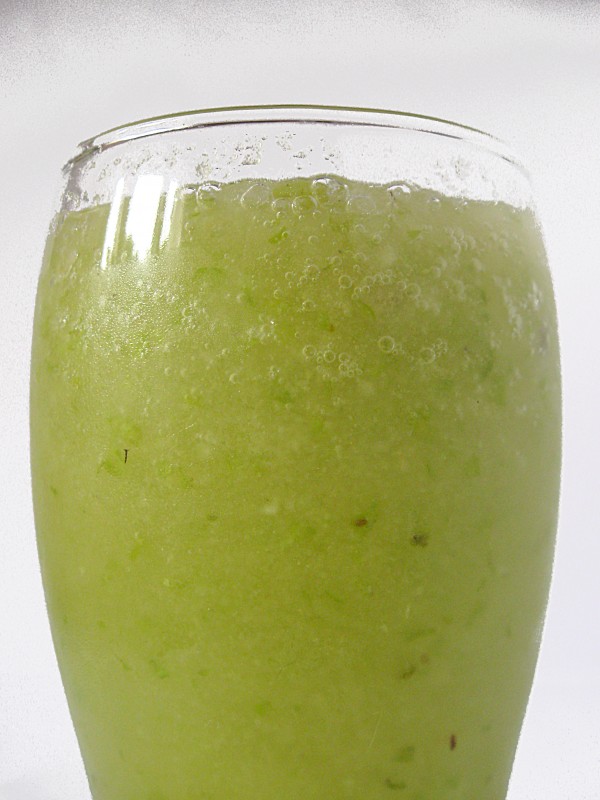 Servings: 1 Prep Time: 10 minutes Total Time: 10 minutes
Ingredients
3/4 cup Kale , center stems discarded, rough chopped
1/2 Banana
1/2 cup Apple Cider
1/2 cup Ice Cube
1 tablespoon Lemon Juice
Instructions:
Blend in blender until smooth, pour into glass and enjoy!
December 2017 Recipe of the Month
Braised Butternut Squash, Carrots and Spinach with Chicken
A hearty and warming braise, just right for the chilly temperatures outside. Buy a loaf of crunchy bread for soaking up the juices.
Servings: 4
Ingredients
2 tablespoons Olive Oil , divided use
1 Chicken , cut in 8 pieces
1 cup Onion , diced, about 1/2 an onion
1/2 pound Carrot , peeled and cut into bite sized pieces, about 3 medium
2 tablespoons Flour , or rice flour if you cook gluten-free
1 cup Dry White Wine
1 pound Butternut Squash , peeled, seeded and cut into 1 inch cubes about 1/2 a medium squash
2 teaspoons Dried Sage
1 teaspoon Dried Thyme , or 3 sprigs fresh
2 cups Chicken Stock
1/2 pound Spinach , large stems removed, chopped
Instructions
Heat 1 tablespoon of oil in a sturdy dutch oven. Pat chicken parts dry and sprinkle generously with salt and pepper. Working in batches so as not to crowd the pan, sear each piece of chicken until skin is nicely browned. Remove chicken to a plate while you proceed to brown remaining chicken.
Add remaining tablespoon to pot and sauté onion with a sprinkle of salt and pepper until wilted, about 6 minutes. Add in flour or potato starch and stir to absorb oil. Deglaze pot with white wine, scraping up any browned tidbits in bottom of pan. Boil wine until smell of alcohol cooks off, about 3 minutes. Stir in squash, carrots, sage, thyme and chicken stock. Nestle pieces of chicken, skin side up, among the squash mixture. Bring to a boil, then reduce to a simmer, cover and cook until chicken reaches an internal temperature of 165˚ and squash is tender, about 25 minutes. Stir in spinach and simmer until wilted, taste and adjust seasonings.
November 2017 Recipe of the Month
Turkey and Cranberry Chutney Wrap and Roll Platter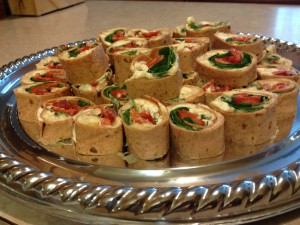 One of my all-time favorite party dishes is the wrap and roll platter. There are endless variations of wrap sandwiches which you can make, then roll up and slice pinwheel style to make tasty finger food platters. One of my favorites is turkey with cranberry chutney. Make the chutney a day ahead of time and keep in fridge overnight to speed process
Servings: 12+
Ingredients
1 cup Onion
1 teaspoon Olive Oil
1 cup Sugar
1/2 cup Water
12 ounces Cranberry
2 Tart Apple , peeled, cored, diced
1/2 cup Raisin
6 tablespoon Brown Sugar
1/4 cup Cider Vinegar
1 teaspoon Cinnamon
1/4 teaspoon Salt
1/8 teaspoon Ground Allspice
1/8 teaspoon Ground Clove
Cream Cheese
40 slices Roasted Turkey Breast
8 large Flour Tortilla
3 ounces Spinach
1/2 cup Red Onion
Start your chutney well in advance of making the wraps so that it can be chilled. Sauté onion in oil in a saucepan until tender. Combine all ingredients from sugar through ground clove in the saucepan. Bring to a boil, then simmer for 20-25 minutes. Cool to room temperature, then store in refrigerator until ready to make sandwiches.
Clear a large enough work space to spread out each of the 8 tortillas. Using a small offset spatula, spread a little bit of cream cheese on edge of tortilla farthest from you. This will act as "glue" to hold the wraps closed.
Divide the chutney across the 8 tortillas and spread over the whole tortilla leaving a 1/2 inch border before the cream cheese. Lay 5 slices of turkey in a line in the middle of the tortilla. Top with a handful of spinach leaves and red onion. Tightly roll the tortilla and seal the edge with the cream cheese.
Slice off the two ends to make an even edge, then slice the tortilla into 6-8 even bite sized pieces. Arrange decoratively on a serving platter.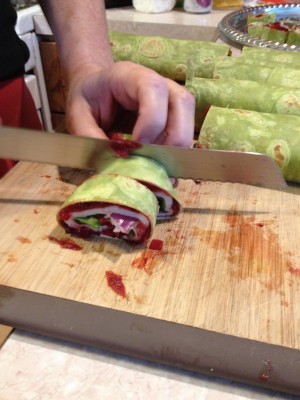 October 2017 Recipe of the Month
Cauliflower Gratin
When you are in the mood for a good gratin, nothing beats gruyere's depth of flavor. The cauliflower and gruyere combined have a terrific nutty flavor.

Ingredients
1 head Cauliflower , cut into florets
3 tablespoons Butter , Divided
3 tablespoons Flour
2 cups Milk
1 teaspoon Salt
1/2 teaspoon Pepper
1 teaspoon Dry Mustard
1 cup Gruyere Cheese , grated
1/2 cup Breadcrumb
2 tablespoons Parmesan Cheese , grated
Instructions
Preheat oven to 375˚. Steam the cauliflower until crisp-tender, about 4 minutes.
If using wheat flour, meanwhile, melt 2 tablespoons butter in a small saucepan, whisk the flour into the butter and stir to form a roux. Whisk the milk into the roux, then cook, stirring occasionally, until sauce comes to the boil, lower heat and simmer for about 5 minutes until milk is thickened. Stir in dry mustard, salt and pepper. Remove from heat. Stir in gruyere cheese.
In a separate sauté pan, melt remaining tablespoon butter, and toast breadcrumbs until lightly browned. Remove from heat, stir in parmesan cheese.
Spread cooked cauliflower in a 2 quart baking dish, pour sauce over, sprinkle with toasted breadcrumbs. Bake for 30 minutes, until bubbling hot and browned.
September 2017 Recipe of the Month
Raw Kale and Celeriac Salad with Smoked Trout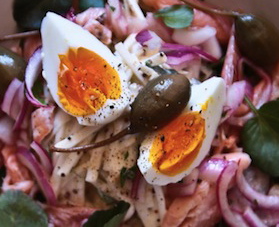 A richly satisfying salad meal, this one can be made up to a day ahead of time.
1 Celeriac
3 tablespoons Lemon Juice
3 tablespoons Mayonnaise
3 tablespoons Sour Cream
2 tablespoon Creole Mustard , or spicy brown mustard
1/4 cup Apple Cider Vinegar
2 tablespoons Honey
4 tablespoons Chive , minced
1 bunch Kale , center stalks removed, leaves very finely chopped
8 ounces Smoked Trout , skinned, broken into bite sized pieces
4 Hard Boiled Egg , peeled, quartered
12 Caperberry
Salt and Pepper , to taste
Instructions
Shred celeriac with the shredding disk in a food processor, or with a box grater. Toss with lemon juice to keep celeriac from discoloring. Set aside.
In a small bowl, mix together mayo, sour cream, spicy mustard, vinegar, honey and chives. Toss the kale and celeriac with the dressing. Taste and adjust seasonings. Divide this mixture among 4 plates, top each salad with a quarter of the trout, eggs, and caper berries. Give an extra crack of pepper to the top, and serve. If not serving immediately, wrap tightly with plastic wrap and keep in refrigerator.
August 2017 Recipe of the Month
Ratatouille

A classic dish — ratatouille — that uses an abundance of mid-late summer vegetables in a tasty stewed melange. You can eat it as is, or serve over polenta, rice, pasta. Thanks to the Pixar movie of the same name, my kids BEG me to make this dish as soon as the first eggplants and peppers arrive in our CSA share.
Ingredients
1 pound Eggplant , cubed
2 teaspoons Kosher Salt
3 tablespoons Olive Oil
2 Red Bell Pepper , diced
2 Onion , diced
2 tablespoons Garlic , minced
2 Zucchini , diced
4 Tomato , diced
2 teaspoons Herbes De Provence
1/4 cup Basil , torn
1 cup Marinara Sauce
Salt and Pepper , to taste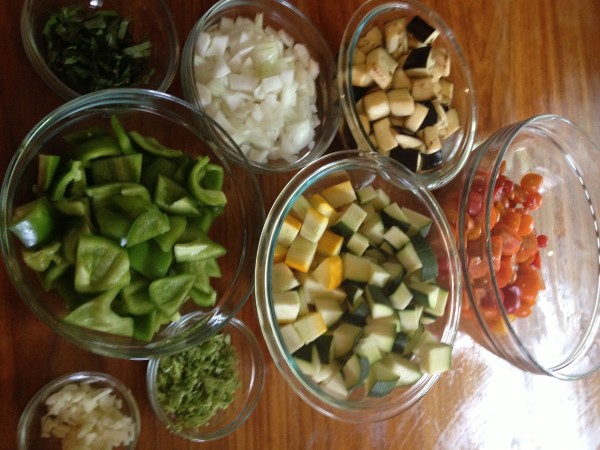 Instructions
Put the cubed eggplant in a colander and sprinkle with kosher salt. Toss well and set aside to drain.
After about 20-30 minutes, rinse off eggplant, pat dry. Heat the olive oil over medium – high heat in large skillet or wok. Add the eggplant and cook, stirring occasionally, until lightly browned. Add in the red pepper, onion, and garlic. Cover and cook over medium heat, stirring occasionally, until the vegetables are soft, about 25 minutes.
Stir in the zucchini, tomatoes, herbs and sauce, cover, and cook until just tender, about 10-20 minutes. Season to taste with salt and pepper, and serve.
July 2017 Recipe of the Month
Braised Romano Beans
Broad, flat Romano Beans beg for a long slow braise the way my Italian Grandmother — "Nana Maniscalco" — used to do it. Serve this atop mascarpone corn kernel polenta for a real taste treat. Start the beans first, and while they braise you can get the polenta ready — delicious!

 Serves 4
Ingredients
1/4 pound Pancetta , diced (optional)
2 tablespoons Olive Oil
1 Onion , diced
1 Bell Pepper , seeded and diced
3 cloves Garlic , slivered
1/2 cup Dry White Wine
1 pound Tomato , rough chopped
1 pound Romano Bean , snipped, cut into 1 inch lengths
Salt and Pepper
Instructions
In a large skillet with a lid or a dutch oven, gently cook pancetta to render fat, and cook until crisp and brown, about 8 minutes. Or heat olive oil in skillet with a lid or a dutch oven. Add onion, peppers and garlic and sauté until wilted about 5 – 6 minutes. Pour white wine into pan and bubble for 2 minutes, until smell of alcohol cooks off. Add tomatoes and simmer until broken down to a sauce consistency, about 15 minutes. Season with salt and pepper, and add Romano beans, stirring into the sauce. Cover and set heat to medium low, and braise until beans are silky tender, about 35-40 minutes, stirring occasionally and adding a little water if the sauce becomes dry. Adjust seasonings and serve on top of soft polenta.
June 2017 Recipe of the Month
Strawberry Rhubarb Pie
June 9 is Strawberry Rhubarb Pie day — so here we give you a classic early summer delight.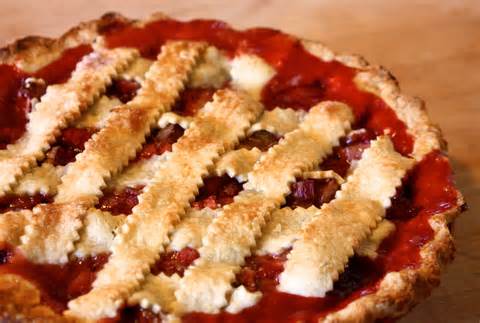 Ingredients
For crust
3 cups all purpose flour
2 1/2 teaspoons sugar
3/4 teaspoon salt
2/3 cup chilled solid vegetable shortening, cut into pieces
1/2 cup plus 2 tablespoons (1 1/4 sticks) chilled unsalted butter, cut into pieces
10 tablespoons (about) ice water
For filling
3 1/2 cups 1/2-inch-thick slices trimmed rhubarb (1 1/2 pounds untrimmed)
1 16-ounce container strawberries, hulled, halved (about 3 1/2 cups)
1/2 cup (packed) golden brown sugar
1/2 cup sugar
1/4 cup cornstarch
1 teaspoon ground cinnamon
1/4 teaspoon salt
1 large egg yolk beaten to blend with 1 teaspoon water (for glaze)

Instructions

Make crust:
Pulse flour, sugar and salt in processor. Add in butter and shortening, and pulse processor until small crumbs form. With processor's motor running, pour in enough ice water 2 tablespoons at a time until moist clumps form. Gather the dough into a ball; cut in half. Flatten each half into a disk. Wrap each disk separately in plastic; refrigerate until firm, about 1 hour. (Can be made 1 day ahead. Keep chilled. Let dough soften slightly at room temperature before rolling.)
Make filling:
Preheat oven to 400°. Combine the filling ingredients (not egg) in a large mixing bowl.
Roll out 1 dough disk on floured work surface to  be about a 13-inch round. Transfer to a 9-inch glass pie dish. Trim the excess dough, leaving 3/4-inch overhang.
Roll out the second dough disk on lightly floured surface to a 13-inch round. Cut this round into fourteen 1/2-inch-wide strips. Spoon the filling into crust. Arrange 7 dough strips atop filling, spacing evenly. Form lattice by placing remaining dough strips in opposite direction atop filling. Trim ends of dough strips even with overhang of bottom crust. Fold strip ends and overhang under, pressing to seal. Crimp edges decoratively.
Brush egg/ water glaze over crust. transfer pie to baking sheet. Bake 20 minutes. Reduce oven temperature to 350°F. Bake pie until golden and filling thickens, about 1 hour 25 minutes. Transfer pie to rack and cool completely.
May 2017 Recipe of the Month
Classic Potato Salad
Holiday weekend is upon us, along with neighborhood potlucks, backyard barbecues, camping trips and lots of opportunities to grill a burger or brat. Here is a tasty and classic potato salad to share at your parties, and I'll tell you a secret about potato salad — its pretty much about the dressing. The actual veggies you use are very flex — play with it based on what you have on hand. No scallions? Try a little sliced spring onion tops or diced red onion. Have some radishes or celery handy and want to add a little crunch? Dice 'em up and toss them in. Have a handful of parsley lying around — mince it right in there. I tend to like my potato salad a little more vegetable-y and a little less dressing-y. If you want more dressing, add 2-4 tablespoons mayo to the salad and enjoy! The majority of the prep time is unattended cooling time for the salad.

Servings: 6 Prep Time: 2 hrs 40 minutes Cook Time: 25 minutes Total Time: 3 hrs 5 minutes
Ingredients
2 pound Potato , cut in 1 inch dice
Salt
2 tablespoons Apple Cider Vinega
1/2 cup Mayonnaise
2 teaspoons Whole Grain Mustard
1/3 bunch Scallion , or 1/2 cup sliced Spring Onion tops or onion
2 tablespoons Pickle Relish
2 teaspoons Paprika
2 Egg , hard boiled, chopped
2 tablespoons Parsley , chopped, optional
Instructions
Bring a salted pot of water to the boil. Cook potatoes until JUST tender and easily pierced with the tines of a fork — 15 minutes or so. Drain. Be certain to test the veggies as they cook. You don't want overcooked mushy veggies in your salad.
Combine potatoes and vinegar while still hot. Allow veggies to cool almost to room temperature.
Whisk together mayo, mustard, scallion or spring onion tops, relish, and paprika. Stir dressing into veggies and refrigerate until cold. Just prior to serving, fold in chopped hard boiled eggs and parsley.
Stuffed Baked Apples
Delicious weekend brunch addition or a tasty dessert — you decide!
Servings: 4 Prep Time: 20 minutes Cook Time: 40 minutes
Ingredients
Instructions
Preheat oven to 375˚. Place apples in a baking dish. Combine granola, cinnamon, craisins and honey and fill the cored apple with the mixture. Pour about 1/4 inch of water into the baking dish and bake for 40 minutes.
March 2017 Recipe of the Month
Chipotle, Black Bean and Sweet Potato Burrito
I love the play of smoky chipotle with sweet potato — these are flavors that are meant to be together! If you aren't a fan of the smoky heat from these chilis you can leave them out of the recipe and it will still taste yummy! Creamy, crunchy, smoky, sweet and DELICIOUS! This recipe is inspired by a chicken and rice burrito recipe I read awhile back in Food Network Magazine.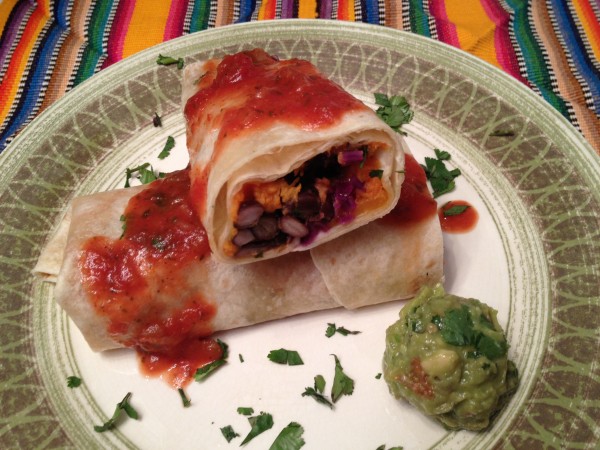 Ingredients
1 large Sweet Potato , about 1 pound
1 cup Salsa , plus extra for serving
2 tablespoons Chipotle in Adobo Sauce , pureed with sauce*
1 28 ounce can Black Bean , drained and rinsed
1/4 cup Cilantro , chopped
4 10inch Flour Tortilla , or gluten free wrap
1 1/2 cup Monterey Jack Cheese , shredded from about 5 ounces
1 cup Cabbage , shredded
1 tub Guacamole
Instructions
Poke the sweet potato all over with the tines of a fork. Microwave until tender. Scoop out the flesh and mash. Season with salt and pepper. If you prefer not to use a microwave, preheat oven to 400 and bake sweet potatoes until tender about 1 hour.
While the sweet potato is cooking, heat a non-stick skillet and heat salsa and chipotle until sputtering. Stir in beans and cook until warmed and a little bit thickened. Stir in cilantro and taste — adjust seasonings.
Heat tortillas according to package instructions. Smear 1/4 of the sweet potato across the bottom half of a tortilla. Spoon 1/4 of the bean mixture and the cabbage over along with 1/4 of the cheese. Roll up the burrito, tucking in the ends and serve with salsa and guacamole.
February 2017 Recipe of the Month
Vegan Valentine's Beet Chocolate Lava Cake

Serves 6  Prep Time: 60 minutes
Ingredients
1 Beet
3/4 cup Almond Milk
1 teaspoon Apple Cider Vinegar
1/2 cup Raw Organic Cane Sugar
3 tablespoons Earth Balance Spread , melted
1 teaspoon Vanilla Extract
1/2 teaspoon Baking Powder
1/4 teaspoon Baking Soda
1/2 cup Unsweetened Dutch-Process Cocoa Powder
3/4 cup + 2 tablespoons Flour
2/3 cup Vegan Chocolate Chips , divided use
Vegan Ice Cream
Instructions
Preheat oven to 375˚. Generously spray 6 cups of a muffin tin with cooking spray. Prick the beet all over with the tines of a fork. Place in a microwave safe bowl immersed in water and microwave until tender and easily pierced with a skewer. All microwaves vary in strength, and the age of the beet affects how long it will take until cooked. I used the baked potato button on my microwave, and had to do it 3x to get it tender, about 15 minutes. Just keep checking every few minutes.
While beet is cooking, mix the almond milk with the vinegar and allow to stand at room temperature. When the beet is tender, peel and rough chop. Place beet in a food processor and chop fine.
Either in a stand mixer or with a hand held mixer, beet the almond milk mixture into the beets. Add ingredients through the flour and beet until incorporated.
In a microwave safe bowl, microwave 1/3 cup of chocolate chips at 30 second intervals until just melted. Beat the melted chips into the batter.
Pour about 1/2 the batter into the prepared muffin tins. Place 1 tablespoon chips in the center of each cake, then top with remaining batter. Bake only until the top of each cake is no longer wet — ovens can vary, so keep a very close eye on these starting around 10 minutes. I pulled mine out at 14 minutes, and it was barely runny, so 12 minutes should be about right. (The blogger says she cooked her 17 minutes and it wasn't runny, but was a fudgy tasty consistency)
Run a knife along the sides of the cakes, and carefully turn out onto a cutting board. Place each cake on a plate, top with a scoop of ice cream (we used vanilla) and serve hot.
January 2017 Recipe of the Month
SoCal Pickled Veggies for Tacos
Our family has spent a lot of time searching out the best taco stands in San Diego on our year long sabbatical. Most of the really good ones have condiment bars that go way above and beyond a few salsas and some wedges of lime. One of my favorite finds on the condiment bar at lots of the taco shops is a spicy pickled onion and carrot topping that adds heat, sweet, sour and zip to everything from carnitas to carne asada or fish tacos. Here is a variation of this great topping. You want a mix of veggies totaling 1.5 pounds.

Servings: 12 Prep Time: 15 minutes Cook Time: 10 minutes
Ingredients
1/2 teaspoon Cumin Seed
1.5 cup White Wine Vinegar
1.5 cup Water
1 teaspoon Dried Oregano
1 tablespoon Sea Salt
generous 1/4 teaspoon Black Peppercorn , crushed
1 cup Onion , sliced
2 Jalapeño , cut in quarters, or hot pepper flakes to taste, optional
4 cloves Garlic
3/4 pounds Carrot , peeled and sliced on the bias
1 small Salad Turnip , peeled and cut in half, sliced in half moons
1 medium Beauty Heart Radish , peeled and cut in half, sliced in half moons
Instructions
Toast the cumin seeds in a dry skillet until fragrant.
In a non-reactive pot, combine water, vinegar, oregano, salt and peppercorns. Bring to a boil, stirring to dissolve the salt. Remove from heat and stir in onions, garlic, jalapeño and cumin seeds.
Bring a separate pot of water to a boil, and season the water generously with salt. Boil the carrots until crisp tender, about 2-3 minutes. Drain the carrots, then stir into the vinegar mixture along with the remaining veggies. Allow the flavors to marry for at least 1 hour before serving. This will keep for a few months in your fridge, or use a hot bath canning method to put up the pickles longer.
December 2016 Recipe of the Month
Crisp Potato Latkes
The crisp perfection that is a latke requires serious reduction in the amount of liquid present in the potato. To achieve dry strands of potatoes, I salt the raw shreds, place them in cheesecloth, and squeeze the heck out of them. If I'm feeling ambitiously purist, I will catch the liquid in a bowl, and wait a bit for the water to separate from the natural potato starch, drain off the liquid and use the starch as a binder in the latkes. But I'm rarely that ambitious or pure. Flour, store bought potato starch and matzo meal all work equally well here. If you don't have onions — use scallions or chives. Serve this with apple sauce or sour cream or both!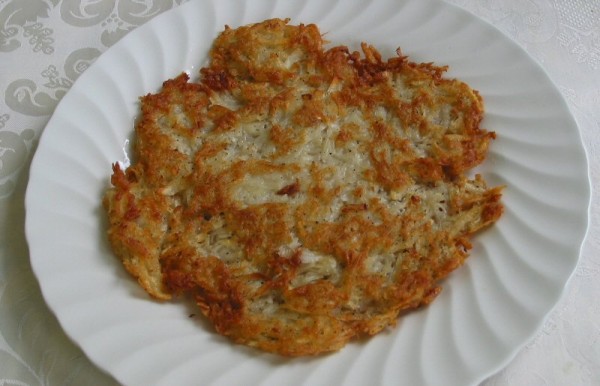 Servings: 4 Prep Time: 25 minutes Cook Time: 20 minutes Total Time: 45 minutes
Ingredients
1 pound Potato , shredded in food processor or on box grater
1/2 cup Onion , shredded in food processor or on box grater
3 tablespoons Flour or Matzoh Meal , use 1/2 amount of Potato Starch if desired
1 large Egg , lightly beaten
Salt and Pepper
2 tablespoons Vegetable Oil
2 tablespoons Unsalted Butter
Instructions
Take your shreds of potato, and sprinkle them with some salt. Lay them on a nice big piece of cheesecloth and give the salt 10 minutes or so to extract some moisture. Then wrap up the potatoes in the cheesecloth and wring, wring, wring as much moisture as you can get out of those strands. The drier, the crispier!
Toss the potatoes with the onion, flour and egg. Season with a scant teaspoon of salt and a crack or two of black pepper. Heat a cast iron skillet over medium high heat. Warm the oil and melt the butter. When the butter ceases to foam place little scoops of potato mixture into the pan, being careful not to crowd and flatten them with a spatula. Cook until crisp and browned on one side, about 2-3 minutes. You'll see the edges start to turn brown, and know they are ready to flip. Flip over and cook other side another 2 or so minutes. Remove from pan and drain on towels and continue cooking until all mixture is used up. These can be kept warm in a low oven, or made ahead of time, and reheated in a 350˚ oven for about 8 minutes.
November 2016 Recipe of the Month
Brussels Sprouts Braised in Apple Cider
The sweet tart vinegar and cider sauce plays well with the cabbag-y-ness of the sprouts in this dish.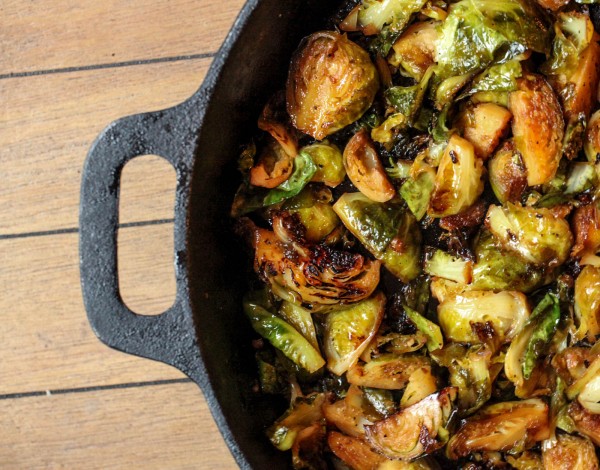 Servings: 4 Prep Time: 15 minutes Cook Time: 18 minutes Total Time: 33 minutes
Ingredients
1 pound Brussels Sprout , trimmed, halved (about 1 stalks worth, removed from stalk)
2 tablespoons Olive Oil
1/2 Onion , chopped, about 1 cup
1 1/2 cup Apple Cider
1 Cinnamon Stick
2 tablespoons Balsamic Vinegar
Instructions
Heat a heavy large skillet over high heat, and warm oil until shimmering. Sauté onions about 4 minutes, add sprouts, sauté 4 minutes.
Add cinnamon and apple cider, bring to boil, cover, reduce heat, and simmer about 10 minutes, or until the sprouts are tender when pierced with a fork.
Discard cinnamon stick. Remove veggies with slotted spooon. Boil to reduce liquid by half, add vinegar and reduce to glaze. Pour glaze over veggies and serve.
October 2016 Recipe of the Month
Beauty Heart Radish and Chive Tea Sandwiches with Sesame and Ginger
I love a good tea sandwich, whether or not we are having a tea. I think they make great party food, and a wonderful snack or lunch. This Asian-ified take on the classic radish tea sandwich is uber-beautiful with the colorful beauty heart radish. Depending on how large your radish is, you may have to manipulate your cut to make it fit on the baguette. Most average sized beauty hearts are the perfect size for the average baguette slice.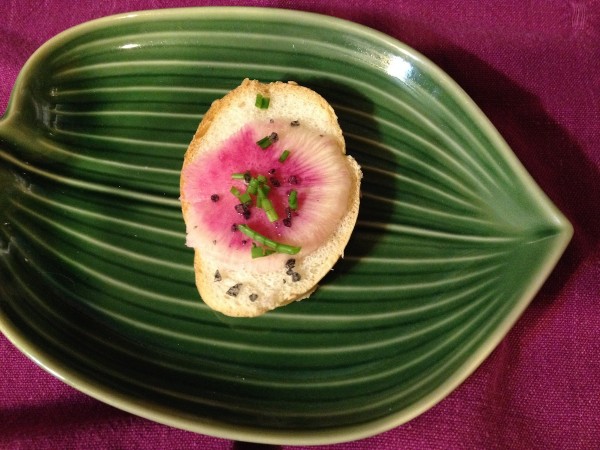 Servings: 16 Prep Time: 30 minutes Total Time: 30 minutes
Ingredients
1 Beauty Heart Radish , peeled (or 2 smaller)
8 tablespoons Butter , room temperature
6 tablespoons Chive , minced, divided use
2 tablespoon Black Sesame Seed , divided
2 teaspoon Ginger , minced
1/2 teaspoon Toasted Sesame Oil
32 1/4 inch slices Baguette , about 1 baguette
Fleur de Sel
Instructions
Peel your beauty heart radish. If you have a mandolin, set it to a very thin slice, and cut 32 paper thin slices of the radish, or using your sharpest chef's knife, cut 32 slices.
In a small bowl, combine butter, 1/2 the chives, 1/2 the sesame seeds and the ginger with the oil. Spread this mixture over the slices of baguette. Lay a slice of beauty heart on top (again, if the size isn't right, be creative!) and sprinkle with remaining chives and sesame seeds. Just prior to serving, sprinkle a little touch of fleur de sel on top.
Adapted from Bon Apetit April 2008. Schar makes a good Gluten Free Baguette.
September 2016 Recipe of the Month
Summer Pasta with Tomato Water, Tomatoes and Garlic
It's amazing how something so simple can be so mouthwatering and satisfying when you use fresh ingredients and let them shine.Tomatoes do double duty here–the juices from the tomato create the sauce and then more ripe tomatoes are folded in. Easy and elegant.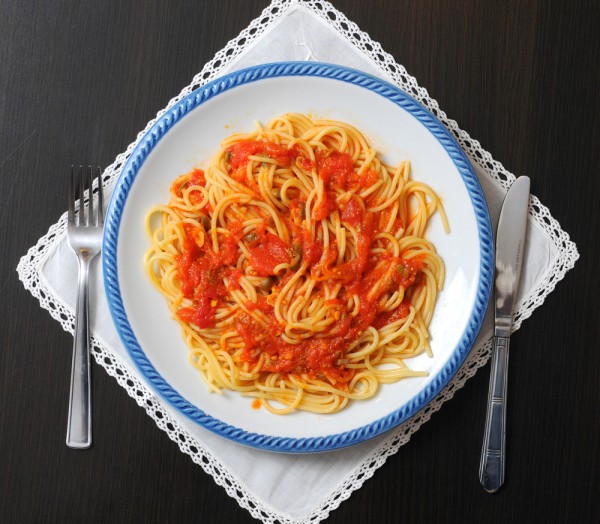 Servings: 4 Prep Time: 10 minutes Cook Time: 15 minutes Total Time: 25 minutes
Ingredients
6 Tomato , large dice
1 1/2 teaspoons Kosher Salt
12 ounces Spaghetti , choose gluten free, if desired
6 cloves Garlic
2 tablespoons Basil , optional, chiffonade
3 tablespoons Butter , cut into 3 chunks
Salt and Pepper , to taste
Instructions
Bring a large pot of salted water to a boil. Cook the pasta according to package instructions. Reserve 1/2 cup of cooking water then strain the pasta.
While your water comes to a boil, season the tomatoes with the salt and toss them well in a mixing bowl. Cut the basil into ribbons or roughly chop it. Take a pinch of this basil, chop it finely, and add it to the tomatoes to season the "tomato water" that the salt will extract from the tomatoes. Allow moisture to be extracted for about 5 minutes.
Smash the garlic with the flat side of a knife, and chop it. Place it into a sauté pan. Pour the tomatoes into a strainer or colander over the garlic so that the tomato water will stream into the pan below. Set the strainer with the tomatoes back into the bowl so they don't drip on the counter, and bring the sauce to a simmer.
Add the butter while swirling or stirring the sauce. Keep the sauce moving until all the butter is melted. Add the tomatoes, any more tomato water that has accumulated, and the cooked pasta and toss to coat the pasta evenly. If you'd like a little more sauce, add some of the pasta water until you achieve your desired consistency. Divide the pasta among four bowls and top with the remaining basil.
Recipe adapted from Michael Ruhlman.
August 2016 Recipe of the Month
Salade Niçoise with TunaFish
This classic French salad combines the flavors of the month of August — potatoes, beans, tomatoes, peppers with a lovely herbed vinaigrette and of course tuna, hard boiled eggs and olives. We use dained canned tuna here, but you may substitute grilled fresh tuna steaks for a splurge. My kids favorite part of this meal — I serve it as a "composed" salad — each individual item arranged on a platter (or many) so that everyone gets to take the items they most want.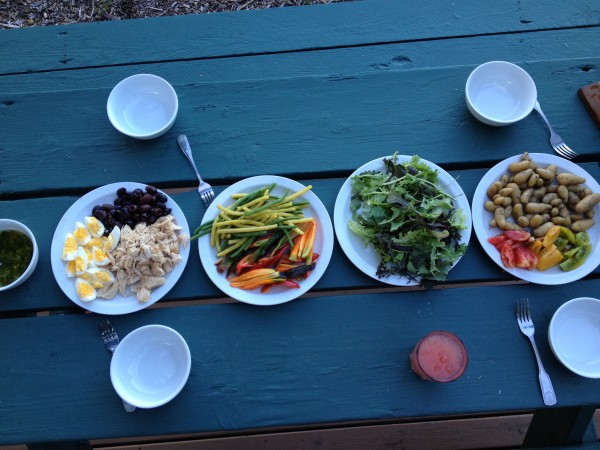 Ingredients
4 Egg
12 ounces Yellow and Green Beans , trimmed and cut to 2 inch lengths
1 1/2 pound Red Potato , well scrubbed, diced into equal bite sized cubes
1/4 cup Red Wine Vinegar
2 tablespoons Shallot , finely minced
2 teaspoons Dijon Mustard
2 Anchovy , flat ones, mashed
1 teaspoon Dried Oregano , here use Turkish or Greek, not Mexican
1 cup Extra Virgin Olive Oil
12 ounces Tunafish, drained and flaked
2 Bell Pepper , cored, seeded and sliced bite-size
1 1/2 pounds Tomato , cored and sliced into wedges
6 ounces Lettuce
1 cup Niçoise Olive , pitted, if desired
1/4 cup Parsley , leaves only, roughly chopped
Salt and Pepper , to taste
Place the eggs in a medium saucepan and cover with cold water. Bring water to a boil, then take off heat, cover and allow eggs to sit until hard cooked, 7 minutes. Drain, rinse with cold water, and place in refrigerator (or for a short time in the freezer) to cool. Cold eggs peel more easily. When you are ready to serve, peel and quarter the eggs.
Simultaneously, heat a large pot of water with a steamer insert to a boil. Steam the beans for 4-5 minutes, until just tender. Remove from the steamer basket while keeping the water boiling, rinse the beans under cold water to stop them from cooking, and drain well. Next add potatoes to the steamer insert, cook until tender and easily pierced, about 15 minutes.
In a medium bowl, whisk together the vinegar, shallot, mustard, mashed anchovies, dried oregano. Add the olive oil in a stream while whisking until emulsified. Season to taste with salt and pepper.
Arrange all the components of the salad on a large platter or several smaller ones: beans, potatoes, eggs, bell pepper, tomatoes, lettuce, tuna and olives. Sprinkle the parsley over, and, invite everyone to make a plate. Pass dressing to drizzle over each plate.
June 2016 Recipe of the Month
Cheddar Scape Biscuits
A basic buttermilk biscuit becomes exquisitely aromatic with the additions of scapes and cheddar.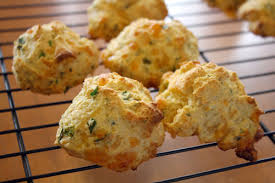 Servings: 6 Prep Time: 15 minutes Cook Time: 15 minutes Total Time: 30 minutes
Instructions
Preheat oven to 400˚. Mix dry ingredients together. Cut butter into tablespoons and, with fingers, blend into dry ingredients until mixture resembles cornmeal. Stir in cheese and scapes.
Stir 1/2 cup buttermilk into beaten egg and add mixture to flour mixture. Stir quickly, adding more buttermilk as necessary until dough forms a ball. Turn onto floured surface and knead briefly.
Let dough rest for a minute, then roll out to 3/4′ thickness. Cut into 2′ rounds. Place biscuits on baking sheet, 1″ apart.
Bake at 400 degrees for 15 minutes or until golden brown.
January 2016 Recipe of the Month
Black Eyed Peas and Collard Greens Stew
New Year's Day is celebrated in many cultures with a bowl of black eyed peas and greens. This tradition dates back 1500 years to a traditional Rosh Hoshanah dish, and migrated with the Sephardic Jews to the American South. Grab some cornbread to sop up this stew — you will be living large, southern style, with this delicious meal! The beans do soak overnight, so start that the day before you want the stew. You can expedite the preparation time by using 2 14 ounce cans of beans if you prefer, in which case, you can reduce the initial simmering time to about 5 minutes.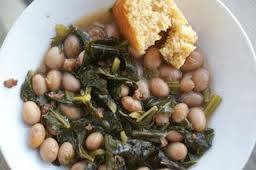 Ingredients
2 cups Dried Black Eyed Peas , picked over and rinsed
1 tablespoon Olive Oil
1 cup Onion , chopped
4 cloves Garlic , minced
1/2 pound Smoked Turkey Breast or Ham , cut into cubes
OR *
1 dash Liquid Smoke
6 cup Chicken or Vegetable Stock
1 bunch Collard Greens , center stems removed
1 dash Hot Sauce , to taste
1 teaspoon Cider Vinegar
Salt and Pepper , to taste
Instructions
Soak the black eyed peas overnight in water. Drain and discard water.
Heat olive oil in a soup pot over medium high heat. Add onion and garlic and sauté until wilted about 6 minutes. Add in diced meat or liquid smoke and stock, bring to a boil, reduce to a simmer and cook until beans are tender, about 45 minutes.
Thoroughly clean and rough chop your greens. Stir greens into soup and simmer for about 20 minutes. Season soup with hot sauce, vinegar and salt and pepper to taste.
July 2015 Recipe of the Month
Ensenada Slaw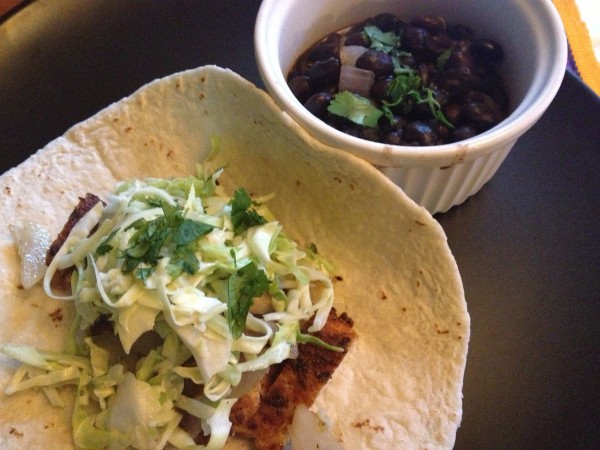 After an unfortunate incident involving a borrowed car and a boulder, my husband and I were stranded in Ensenada, Mexico for a long, hot weekend several years ago. While our trip was a comedy of errors worthy of its own movie starring Steve Carrell and TIna Fey, one good thing that came out of it was discovering the simple slaw served at almost every restaurant. Lightly dressed crisp vegetables with a hint of heat continue to be one of my favorites. We first discovered it while enjoying fish tacos while a Mariachi band serenaded us with "Besame Mucho". I've included a simple fish taco recipe here as well. The recipe is flexible and forgiving. The dressing works well with about 6-8 cups of shredded veggies, and the vegetables can be adjusted based on what is seasonal and on hand.
Ingredients
1/2 head Cabbage , cored and shredded, about 4-6 cups
1 bunch Broccoli Stems , peeled and shredded, about 2 cups
1/2 cup Mayonnaise
4 teaspoon Lime Juice
4 or more dashes Tabasco Sauce , to taste
2-4 tablespoons Cilantro, to taste
Salt and Pepper
Instructions
Mix veggies together in a bowl. In separate bowl whisk together mayo, lime juice and tabasco. Toss with veggies and sprinkle to taste with cilantro, salt and pepper. Put in fridge while you prep the fish tacos.
Fish Tacos
2 1/2 tablespoon Olive Oil
2 tablespoons Paprika
1 1/2 tablespoons Dried Oregano
1 tablespoon Garlic , minced
1 1/2 teaspoons Cumin
1 1/2 teaspoons Red Pepper Flake
1 1/2 teaspoons Lime Zest
1 1/2 teaspoons Kosher Salt
1/4 teaspoon Pepper
1 pound Halibut, or other flaky white fish fillets
Tortillas and additional condiments of choice for serving
Preheat oven to 350˚. Make a spice rub by combining olive oil, paprika, oregano, garlic, cumin, red pepper flakes, lime zest, kosher salt and pepper, then rub it all over the fish. Heat a nonstick pan over high heat until very hot. Dab a little oil in the pan and pan sear the fish, flesh side down until browned. Turn fish to other side, and place in oven and cook until fish reaches an internal temperature of 145˚, about 6-7 minutes.  Remove, cover and allow to rest at least 5 minutes. Serve on a tortilla, with a heaping pile of slaw and other condiments of your choice — salsa, guacamole, sour cream etc. The spice rub is inspired by a recipe in Gourmet Magazine from June 2007.
June 2015 Recipe of the Month
Gluten Free Strawberry Shortbread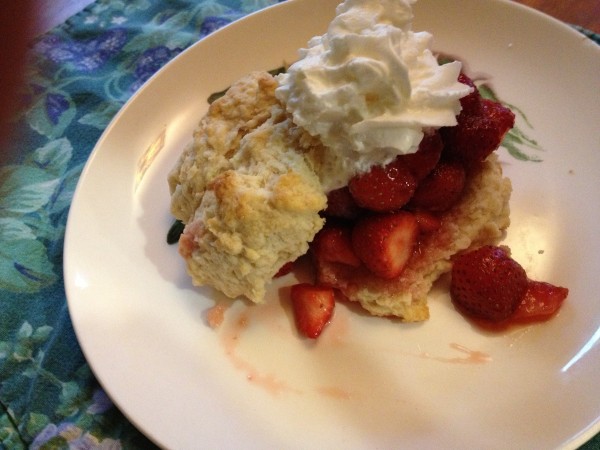 Here shortbread gets the GF treatment, with an increase of baking powder and the addition of ground up chia seeds to act as a binder in place of gluten. A word about handling the dough: be light with your hands. If you pack the dough too tightly, you'll end up with neither shortcake nor shortbread–but rather short bricks!
Servings: 8 Total Time: 45 minutes
Ingredients
3 1/2 cups Strawberry , hulled and halved, about 2 pounds of berries
3/4 cup Sugar , more or less, to taste, divided use
1 cup Whipping Cream
1 teaspoon Vanilla Extract
2 cups Gluten Free Flour Mix
1 tablespoon Chia or Flax Seed , ground
2 1/2 teaspoons Baking Powder
1/2 teaspoon Salt
1 stick Unsalted Butter , cut into small pieces
1 cup Buttermilk , chilled
Instructions
Combine strawberries and 1/2 cup sugar in a bowl. Allow to rest at room temperature until syrup forms, about 15 minutes.
Beat cream, vanilla and 2 tablespoons sugar in a chilled bowl until stiff peaks form. Cover and chill until ready to use.
Whisk together flour, lemon zest, ground chia seed, 2 tablespoons sugar, baking powder and salt into large bowl. Add butter pieces and mix with fingers until mixture resembles corn meal. Gradually add 1/2 of buttermilk, tossing with fork until large moist clumps form. Depending on the type of flour you're using, you might need to add more buttermilk. Add more until you have large, moist clumps that will hold a shape.
Gently gather dough into ball, and divide into 8 pieces. Shape each piece into a small patty, but don't pack the dough too hard. Bake at 375° until toothpick inserted in cake comes out clean, about 20 minutes (shortbread will be pale).
Split each shortbread in half, set on plate, spoon over strawberries and their juice, and garnish with whipped cream.
May 2015 Recipe of the Month
Mint Julep
The first weekend in May will see about 80,000 of these being served at Churchill Downs to toast the Kentucky Derby. For me, sipping one marks the rite of passage from winter into spring. It's light, refreshing, and just like the season itself often is in Wisconsin, super chilly. Grab your muddler and make one today!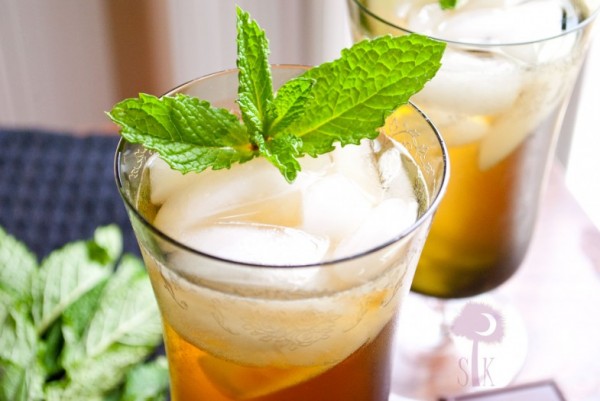 Serves 1
Ingredients:
1 teaspoon Powdered Sugar
4 sprigs Mint plus more for garnish
3 ounce Bourbon
Ice Cubes
Instructions:
Put sugar and mint in the bottom of a highball or Julep Silver cup and muddle together, gently crushing the mint and sugar together. Fill glass with ice and pour some bourbon over and stir until glass is very frosty.
April 2015 Recipe of the Month
Carrot Cake with Cream Cheese Frosting

Adapted from Punky Egan's Parsnip Cake recipe in the cookbook "From Asparagus to Zucchini," I've greatly reduced the amount of sugar in this recipe, and have found the spot where I think the frosting retains the flavor and tang of cream cheese while being pleasantly, though not cloyingly, sweet. I love a good carrot cake with cream cheese frosting, especially on Easter — don't you?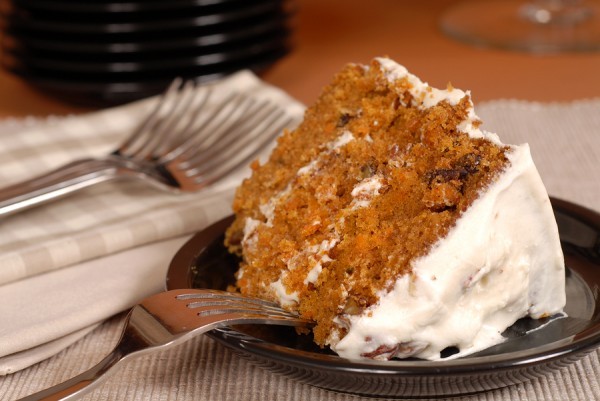 Servings: 12 Prep Time: 25 minutes Cook Time: 35 minutes Total Time: 60 minutes
Ingredients
1 2/3 cups Flour
1 cup Sugar
1 1/2 teaspoons Cinnamon
1 teaspoon Baking Powder
1 teaspoon Baking Soda
1/2 teaspoon Salt
3 Egg
1/2 cup Canola Oil
2 cups Carrot , grated, from 1 pound carrot
1 cup Apple , peeled and grated
1/2 cup Walnut , chopped, toasted
8 ounces Cream Cheese , softened
8 tablespoons Butter , softened
2 cups Powdered Sugar , sifted
1 1/2 teaspoons Lemon Extract
Walnut , for garnish
Instructions
Preheat oven to 350˚. Stir first 6 ingredients together in a large mixing bowl.
Lightly whisk the eggs and canola oil in a medium bowl, fold in shredded carrots, apple and walnuts. Then fold wet ingredients into dry ingredients and mix until just combined.
Grease a 9×13 baking dish, and spread batter evenly in pan. Bake for 30-35 minutes, until cake springs back when touched lightly in the center. Cool the cake on a rack for about 15 minutes, then turn out onto a platter.
To make the frosting, whip the cream cheese and butter with a mixer to combine, then sift in the powdered sugar and beat until smooth, and beat in the lemon extract.
When the cake has cooled entirely, frost the cake.