April 2015 Recipe of the Month
Carrot Cake with Cream Cheese Frosting

Adapted from Punky Egan's Parsnip Cake recipe in the cookbook "From Asparagus to Zucchini," I've greatly reduced the amount of sugar in this recipe, and have found the spot where I think the frosting retains the flavor and tang of cream cheese while being pleasantly, though not cloyingly, sweet. I love a good carrot cake with cream cheese frosting, especially on Easter — don't you?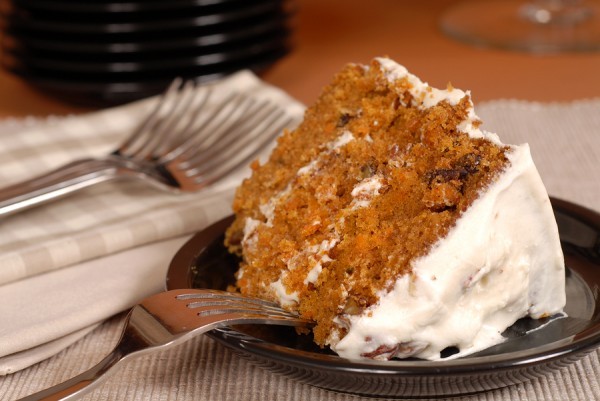 Servings: 12 Prep Time: 25 minutes Cook Time: 35 minutes Total Time: 60 minutes
Ingredients
1 2/3 cups Flour
1 cup Sugar
1 1/2 teaspoons Cinnamon
1 teaspoon Baking Powder
1 teaspoon Baking Soda
1/2 teaspoon Salt
3 Egg
1/2 cup Canola Oil
2 cups Carrot , grated, from 1 pound carrot
1 cup Apple , peeled and grated
1/2 cup Walnut , chopped, toasted
8 ounces Cream Cheese , softened
8 tablespoons Butter , softened
2 cups Powdered Sugar , sifted
1 1/2 teaspoons Lemon Extract
Walnut , for garnish
Instructions
Preheat oven to 350˚. Stir first 6 ingredients together in a large mixing bowl.
Lightly whisk the eggs and canola oil in a medium bowl, fold in shredded carrots, apple and walnuts. Then fold wet ingredients into dry ingredients and mix until just combined.
Grease a 9×13 baking dish, and spread batter evenly in pan. Bake for 30-35 minutes, until cake springs back when touched lightly in the center. Cool the cake on a rack for about 15 minutes, then turn out onto a platter.
To make the frosting, whip the cream cheese and butter with a mixer to combine, then sift in the powdered sugar and beat until smooth, and beat in the lemon extract.
When the cake has cooled entirely, frost the cake.